Having no chance to match the brutality and drama of last week's Sons of Anarchy, the FX thriller didn't really attempt to do so with "Stolen Huffy."
An especially slow episode dedicated to the burial of Opie and a new alliance with Nero, not a great deal went down in terms of the broader plot.
But that's what happens when one of your own dies, right? It feels like your world simply stops spinning.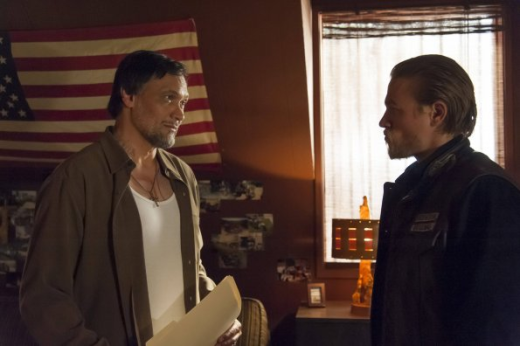 Not that this is actually the case for Jax Teller, of course.

He's dealing with the presence of Damon Pope in his club's life, while saving the life of a rogue escort, comforting a widow, striking a deal to co-own a brothel and checking his mother's ego at the door of his darkest hour.

Jax was a very busy man, and also an angry one. That final glance was not one of sadness or regret, although he's undoubtedly filled with both. It was one of pure rage. Someone will pay for Opie's death, starting with that guard at the prison I'm sure.

But will SAMCRO's revenge extend all the way to Pope? The status of their new enemy - Bobby summed it up well, he can kill them with a phone call as quickly as a bullet - makes him a foe unlike any other the club has encountered. Seriously, when was the last time Jax admitted he was scared of someone?

While Jax tried to keep numerous balls in the air, Gemma and Tara rolled up their fists into balls and went at it with Nero's right-hand woman. I must be honest: I'm growing sick of these two.

It's the same old story every week regarding their feud, and I'm not entirely sure I even buy why it started. Or, to rephrase: What did actually start it?!? Tara's attitude and actions toward Gemma seem to be nothing more than her exerting her power as First Lady of SAMCRO, while Gemma's frustrations stem from being shoved out of her club and her son's life.

I get that, I can understand her viewpoint. But I still find it impossible to believe she'd cozy up to Wendy in response or continually manipulate every situation in her favor. Gemma is a complicated woman and certainly unafraid to play people off each other to get what she wants - but that's all she's been so far on Sons of Anarchy Season 5. Her beatdown of Nero's assistant seemed shoved in just to give Nero an excuse to feel fine about ending their dalliance.

So where do we stand heading into next week?

Pope is taking half the club's gun-running money; Nero is working with Lyla and company, aligned with Jax; Clay is putting up a surprising amount of weight on the bench press for a guy in his condition; and, with Opie now in the ground and Sons of Anarchy having taken a breath from last week's high octane shocker, SAMCRO can rev up its engines once again.

What did everyone else think of "Stolen Huffy?"

Matt Richenthal is the Editor in Chief of TV Fanatic. Follow him on Twitter and on Google+.

Tags: Sons of Anarchy, Reviews