Switched at Birth Review: Hold Nothing Back
by Leigh Raines at .
Remember the old Real World slogan "when people stop being polite and start getting real?" Well... damn, it seems like the latest episode of Switched at Birth was going by that mantra!
In "The Trial" everyone was forced to be truly honest about everything - and I'm not just talking about in court.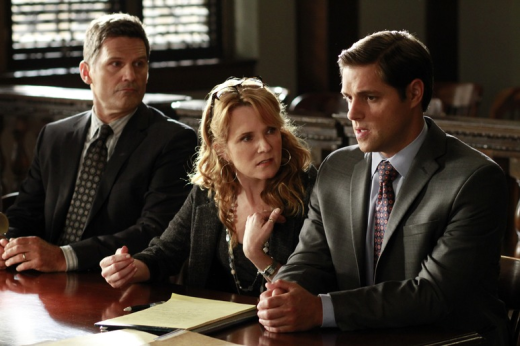 Because the trial was probably the least riveting part of the episode, I'll just give Angelo MVP right now. His speech were perfection. Of course, actions speak louder than words, so let's keep up the good changes, Angelo. 

Somebody who has always been a parent to Daphne, whether she's asked for it or not, is Melody. I don't think Melody was in any way trying to be catty when she was warning Daphne about dating her older boss. Yes, she dated Jeff for less than a month and Daphne has been like a daughter to her for 17 years; it's clear which one of these people she truly cares about. Daphne may be too immature to realize that Melody isn't necessarily jealous, so much as actually concerned.

Melody might be a little jealous, Jeff is pretty hot, but I stand by my belief that she was genuinely trying to give good advice. But as it often the case with giving people advice who don't really want it, they're going to do what they want anyway. That includes Daphne showing up at Jeff's house after they both acknowledged that them dating wasn't the smartest idea. 

Anyway, Daphne knows what she wants and she went after it. Were you surprised that Daphne wasn't a virgin and Bay was? I feel like they've given us a lot of hints about this, but I can still see it being pretty surprising to the audience. In Bay's words:

I don't exactly give off a virginal vibe. | permalink

Fair enough that Bay might not give off a virginal vibe, but right now she's giving off a really troubled vibe. It took a few weeks of an iffy street art/new friendship storyline with Zarra for Bay to be real with Kathryn about why she cares so much about that friendship. Bay thinks she could have turned out like Zarra if their lives weren't switched. Sure, maybe their backgrounds would've been the same, but Bay is forgetting one key ingredient: Regina.

Regina is a compassionate and strong mother. She raised a great daughter, something many of us have agreed on. Maybe Daphne's not making the best choices right now but as far as rebellious teens go, Bay is definitely the troublemaker. Bay grew up with both parents, on the wealthy side of town, and had a great education. The environment doesn't necessarily make the child. 

After John's intense scolding at the end of the episode, it's clear that relations are going to stay strained between Bay and her parents. I honestly can't believe the way he spoke to her. I was truly shocked by that. I was not, however, shocked that she ran away to stay with Zarra. 

The girls are both struggling to find themselves, which is normal for every teenager. Hey, maybe they need some advice from Emmett, it seemed to work for Toby!

What did you all think of this week's Switched at Birth? Did Daphne and Jeff have sex? Do you think Bay deserved that scolding? What do you predict for next week's fall finale?

Leigh Raines is a TV Fanatic Staff Writer. Follow her on Twitter.

Tags: Switched at Birth, Reviews
From Around the Web