"Two Families" seems to acknowledge that Chicago Fire is far less about the fires now than during the pilot, and far more about the men and women who work together and build their own traditions and family on the job.
And the show is much better because of it.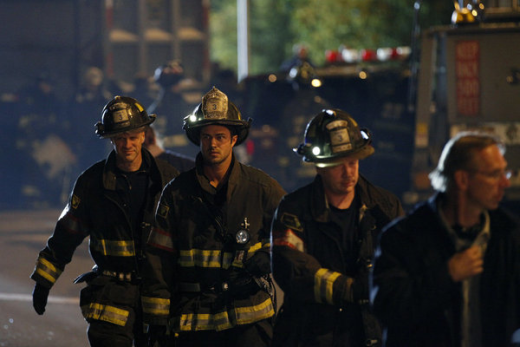 I honestly thought this would be the night Kelly is finally outed over his pain killer problems, but Shay once again stepped in to help him. Which is rather surprising considering she vowed to no longer be part of his charade; however, her stare down of Kelly as she handed him the cup was clear: she's wiping her hands of the entire situation. Besides, Shay has new problems in the form of Clarice.
Clarice. There's just something about her that doesn't feel genuine or authentic. It doesn't seem like she ever wants to stay in one place for very long, and she's only attaching herself to people to get some quick, puppy love affection before moving on to a new person. I'm curious how Shay will handle a potential relationship with her a second time around after Clarice left Shay in such a poor emotional state the last time; and if her biggest confidant, Dawson, will try to show any kind of support for her when she clearly doesn't approve.
Casey, on the other hand, seems to be distancing from his personal family to his work one, as his wants in his relationship with Hallie are starting to drift further and further apart from hers. He has all the desire in the world to start a family and have a baby, and she doesn't at all. 
It's clear the show is gently prodding Dawson and Casey towards something, as Casey collects his free round of shots from her after delivering the baby, and, to be honest, Hallie has never been a very good fit for the show. Whether that depiction of her was done on purpose or not remains to be seen, but I'm all aboard the Dawson and Casey firetruck nonetheless.
Finally, there's Chief Boden and Ernie. While we're never shown with certainty that Ernie is an arsonist, the evidence against him is rather telling, as Boden and Hermann are quick at discerning his life and emotional state. My brother likes to joke around with me that there are two types of firebugs in this world: arsonists and firefighters, and his description seems spot on for Ernie. It looks like Boden recognizes this, too, and is perhaps hoping that if he can show Ernie what being a firefighter is all about he can hopefully turn his life in a more noble direction instead of one behind bars.
Other Thoughts:
How many times is Mills' turkey going to be change color?
The scene with Casey delivering the baby was absolutely beautiful, heart wrenching, and incredibly cinematic. I loved that the background music immediately faded as we waited with held breath with the rest of the team as they hoped Casey could revive the baby.
Hermann's family postponing Thanksgiving so he could be there with them had me crying.
Chief Boden has a son.
I might steal the firehouse's tradition of naming the turkey before carving it.
Don't be alarmed if Chicago Fire notches some pretty low numbers this week. Wednesday shows historically do poorly the day before Thanksgiving because of the holiday.
Nick McHatton is a TV Fanatic Staff Writer. Follow him on Twitter.

Tags: Chicago Fire, Reviews
Want more Chicago Fire?
Sign up for our daily newsletter and receive the latest tv news delivered to your inbox for free!
More From TV Fanatic
On tonight's The Bridge, Marco is made an offer that he initially refuses. Will he agree to go after Fausto?
Things go from bad to worse for Molly on Extant as she tries to escape the prying eyes of the ISEA but chooses the worst place for safety. Read on for a full review.
Mike is on a war path on Graceland... but is he headed in the right direction? Read our review of "Los Malos" now to find out!
On Suits, Rachel tells Mike about the kiss. Where did it go from there? Find out now!
---