TV Fanatic Works Better with Prime Instant Video
Chicago Fire Episode Guide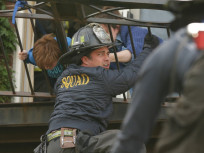 On Chicago Fire, Casey comes to the aid of his sister Christie and faces down his corrupt brother in law while Brett goes above and beyond for a mother in need.
Dawson and Mills get used to their new roles at Station 51 while Casey deals with the aftereffects when his sister announces her divorce on Chicago Fire.
Severide faces his demons as Dawson and Casey tries to find a balance on her first day as a candidate on Chicago Fire.
On Chicago Fire a really big thing goes down with lots of fire trucks and flames and all of the heroes of Firehouse 51 need to respond to save lives.
Mills finds out more details about his family, Dawson looks forward to her candidacy at the Austin Firehouse, and Severide returns to Firehouse 51 on Chicagoe Fire.
Chicago Fire comes back for season 3 on Tuesday September 23rd.
Severide questions his actions after the team deals with a fire at a boarding school on the Chicago Fire season 2 fnale.
A new addition joins the squad as Dawson prepares to try to fireman's exam once again on Chicago Fire.
An explosion takes place when Casey and Dawson volunteer at a charity run on Chicago Fire.
Severide investigates Bloom's past while the firehouse deals with a tragedy of Chicago Fire.