Covert Affairs Finale Review: Annie Gets the Guy
by Carla Day at .
Covert Affairs Season 3 presented a new, mature, Agent Annie Walker. She got a gun last season and this year? She got her super spy mojo!
Even though the season ended on what should have been a happy moment with Annie and Auggie kissing, it had a somewhat somber mood. After everything Annie has been through this year, it was a relief that Auggie - her best friend - would want her in that way.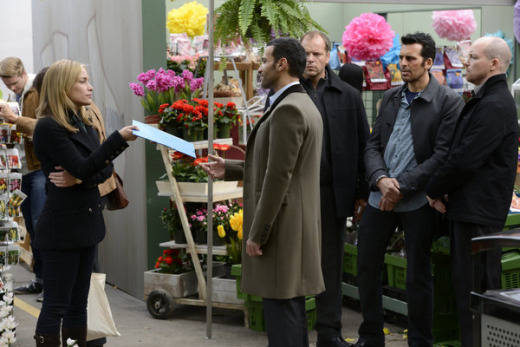 She was the one who wanted him not that long ago, but a lot has happened since then as well. Annie had to deal quite a slew of events: Jai was blown to pieces in front of her, her sister moved away, she fell in love with Simon, he was killed, she killed Lena, she went to a Russian prison, Eyal rescued her (with Auggie's help), Eyal betrayed her, she lost an asset, and she was presented with Wilcox's mysterious folder. And I'm sure I've missed a few pivotal moments, but it had to be a comfort to find herself in Auggie's arms.

Since the beginning, I have been against a relationship between Annie and Auggie, but those darn Covert Affairs writers pulled one on me. I loved this. It was authentic and natural how it all came about. I never thought I'd be rooting for Annie and Auggie to make a romance work. She needs someone she can count on. And, despite his previous womanizing days, Auggie is ready for a solid, committed relationship and she is as well.

Enough with the romance, let's talk about the spy stuff! In "Lady Stardust," Annie upped her game and her "excellent spy craft" as Henry Wilcox put it. She was top notch when dealing with Khalid. Even if Auggie hadn't shown up, I don't think Annie would have handled over the names to Khalid. She would have come up with alternative.

Annie successfully got the information from the consulate and would have found a way to get Eyal back. In the end, the fake shooting and escape, while risky, was a brilliant plan. She quickly outdid herself with Khalid.

Her manipulation to turn Khalid against his father was one of the best moves she has ever made. As she told Wilcox, it kept the agency's hands clean and disrupted Khalid's family. Superb job! I'm proud of Annie like she's my own child that I've watched grow up to become a success.

Was Khalid really a bad guy? That's unclear. He went after Annie because he thought she killed Megan. Did Wilcox make it all up in order to fix his mistake from six years ago? I wouldn't mind seeing Khalid again, perhaps as one of Annie's assets.

The stage has been set for Covert Affairs Season 4. Will Annie work with Wilcox against Arthur and Joan? That folder must have held some very damning evidence for her to team up with Wilcox so quickly. I hope she's not getting herself into another situation of being misled and used. She has the smarts, it's whether she will use them or not. 

Wilcox won't hesitate to take her out any more than Lena did. They both saw the talent in Annie, but also her trusting heart. I dislike Wilcox so much, that it's difficult to understand why she would work with him. As a viewer, if I'm going to buy into this coming storyline, the contents of that folder need to be revealed quickly. 

The men in Annie's life were a highlight of the season. As much as I hated Annie getting into the shower with Simon, I grew to care about him just as Annie did. And, Eyal. It was a pleasure having him around so much even if he betrayed Annie. I hope he gets tired of his fishing boat and comes around next season. And, Auggie ... I'm finally in love with the idea of Annie and him hooking up!

Are you ecstatic about Annie and Auggie? Sad to see Eyal leave? Any thoughts on what was in the folder? What will you ponder about over the next seven or so months until the Season 4 premiere?

Carla Day is a staff writer for TV Fanatic. Follow her on Twitter and on Google+.

Tags: Covert Affairs, Reviews
From Around the Web