We hand jived. We flashed back. Some of us had our hearts broken again. All in an hour's work for Glee, right?
Join the Glee panel of experts - Leigh Raines, Suzanne Davis, Gui Omena from Gleek Daily, and Miranda Wicker - as we break down "Glease." Then, sound off in the comments with your answers to this week's questions...
--------------------------------
What was your favorite scene from "Glease"?
Leigh: Damn, I really missed Kate Hudson!! When she was giving Rachel the verbal smackdown over the phone, all I could think of was Regina George in Mean Girls: "She's fabulous but she's evil."

Suzanne: All the New York stuff! I missed New York, although I got whip lash from Kate Hudson's abrupt change from "nice, concerned mentor" to "love interest stealing floozie."

Gui: There were many great moments in this episode. Marley and her mother were really sweet, and so were all of her scenes in this episode. I'm not sure about my favorite scene but I was always pumped up for Santana's and Cassandra's scenes.

Miranda: I'm going with Ryder and Marley. I'm really, really digging the new cast over the past couple of weeks and I kind of like them together. But then I feel bad because I don't want Jake to be subjected to Kitty. So let's ditch Kitty and bring on the triangle!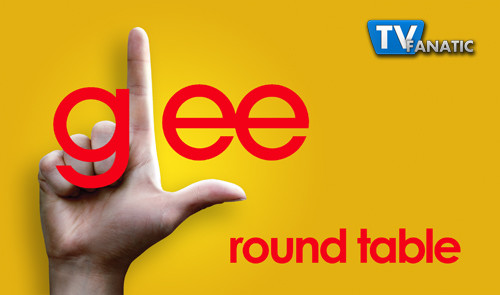 What was your favorite song?Leigh

: "

You're The One That I Want

" has always been my favorite Grease song, gotta go with that. Even if the Rachel/Finn hallucination had some weird filming of them at one point.

Suzanne

: "You're The One That I Want," definitely, although I agree the dream sequence with Rachel and Finn was weird.

Gui

: I have 3 top songs choices from this episode: "You're the one That I Want," (Mostly because of Rachel & Finn, as you really felt Rachel and her emotions - it made me feel very nostalgic -, and also because of the vocals, which personally I thought fit the song much better) "Look at Me I'm Sandra Dee" and "

There are Worse Things I Could Do"

. I'm probably going with the last one because you can't go wrong with Naya Rivera and Kate Hudson.

Miranda

: "

Beauty School Drop Out

"! Blaine made a great Teen Angel. And the dream sequence thing in "You're the One That I Want" killed that one for me. It just felt so weird.

Which character would you be if you were in Grease?Leigh

: I always kinda liked Marty, she was the shy, sexy, fun sidekick. BUT, not enough screentime so I'm gonna go with Frenchy. She was the cute, fun, sweet best friend who couldn't make up her mind about anything. Indecision is a huge trait of mine.

Suzanne

: Sandy. True story, we BEGGED our drama teacher in high school to do Grease and he refused, saying it was a terrible musical. They did it a few years after I graduated and I'm still a little bitter (although realistically I would have been Sandy's understudy, not the star).

Gui

: I have seen the musical only once, therefore I can't say much. If I were auditioning, I guess I could go for any of the T-Birds.

Miranda

: I feel like if Patty Simcox and Rizzo had a baby, it'd be me, minus that whole possibly pregnant thing. It's totally possible to be overly friendly and overly sarcastic, right?

Do you think the closure for Rachel/Finn and Kurt/Blaine was done well?Leigh

: Yes. It made me upset and I think that was the desired effect.

Suzanne

: Meh. I wanted to hear Blaine's explanation, so I'm sad Kurt shut him down. And I don't really believe that's "closure" for either couple.

Gui:

I think yes. As they're the main couples and supposedly the focus of the series, you'd think that I, as a fan of the show, would want them together. But really, as mentioned before, I also thought it was needed and well done. I'm just hoping none of the writers will get some sort of cold feet and make up some silly storyline only to bring them together so this can happen all over again. It had gotten to a point where they were only holding themselves back. I couldn't take it anymore, and more importantly, the characters as well.

Miranda

: I thought Rachel and Finn's conversation was very honest and realistic and I'm glad there was a follow-up conversation to their break-up in the theater. Not that I think Blaine deserves to explain himself to Kurt, but I wish those two had talked, too. So I guess I remain hopeful that a conversation is still coming between the two of them.

Should Wade/Unique have been allowed to play Rizzo?Leigh:

Yes. He said it was the first time he felt like he really belonged somewhere. Why take that away from him? Sue keep your feud with Finn between the two of you.

Suzanne

: Yes. Although I love Santana and was thrilled to have her back.

Gui

: Should he have been allowed? Sure. But for me that's not really the point. Besides the whole Sue/Finn thing (which was definitely not cool, although something you would expect from Sue), and even though Wade/Unique really wanted that role, I don't think it ever belonged to him. Nothing personal, but I just don't feel him as Rizzo, which is such a strong character. He would probably do better in another part.

Miranda

: I'm with Gui here. Wade/Unique wanted the role, but I didn't feel Unique as Rizzo. (But bringing Santana back from college to participate in a high school musical was just ludicrous.) I'm interested to see what Sue's interference in Wade/Unique's life will bring for both characters.

Tags: Glee, Round Tables