Hart of Dixie Review: The Cougar Is In
by Kate Brooks at .
On" Baby, Don't Get Hooked on Me," we witnessed Zoe damage her relationship with Rose in order to insure that the high school football kicker, Max, would compete in a huge game.
Yes, Zoe was turned into the town "cougar."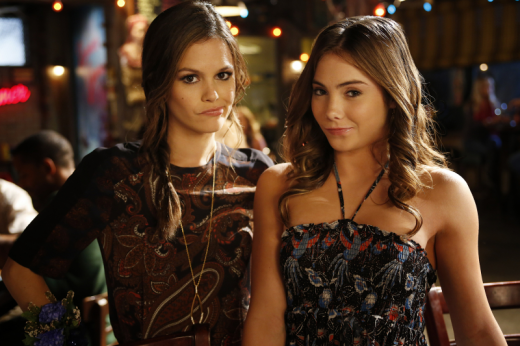 This episode featured a bunch of fun silly elements that kept the tone of Hart of Dixie Season 2 consistent: it's been especially light and adorable. It was an enjoyable hour with obvious aspects that I didn't really buy into or enjoy that much. To wit...

For the first time, I could have completely cared less about Lavon and Ruby's storyline. If you can't see that this relationship won't last for much longer, you need to do a re-watch. That said, I still love Ruby and what her character is doing to everyone else.

I will admit that the last scene with the both of them was a good one. It was great to see this moment happen, considering how much it says about their characters in the series.They both are ready for a strong and solid relationship. What Lavon and Ruby share right now works for the show but in the long run, I don't see it surviving.

How come? Because my end game pairing is, of course, Lemon and Lavon.

Watching Lemon taking charge of her life and finding something she is really good at was extremely entertaining. Though I feel bad for Annabeth having to fail at what she wanted to do in order for Lemon to succeed. I guess you could say that in the end they both accomplished what they wanted to.

I was proud, however, for Annabeth sticking up for yourself!" It has been boiling up for two seasons now and it finally came out. Both actresses did such a great job in that scene and then one in George's office. Thank you ,writers, you did it right. I look forward to watching their catering business blossom as they become successful partners.

I'm so happy for Lemon finding something that she can make a career out of and I appreciate George for still being an amazing guy to her. Now... if Lemon and Lavon could get together and she could continue to be successful, then all my HoD dreams will come true. Is it too good to be true? I hope not!

Elsewhere, what was up with that flash mob? On one hand I thought it was silly, funny and creative, but on the other, come on. It was ridiculous. It tied together at the end when Zoe gave her big speech about bravery and what not, but I am still having a hard time deciding whether or not I liked it. Max was an adorable character and love-sick boy, so I have a hard time hating those moments.

How adorable were the duo of Rose and Tonya tonight? Like I've said before, I could be bias considering I was waiting for McKayla's guest spot, but it was a good scene. I'm happy to see more of Rose and Tonya's character provides it. She may have only had three lines, but I hope they give McKayla more to do when she comes back in an later episode, so we can see what she is capable of as an actress.

Of course, Rose got her "man" at the end of the episode and everything was resolved, which I didn't feel was forced or out of character. However,, is it bad that I was hoping Tonya would be at her side, judging and rolling her eyes? Maybe I'm just being bias again.

Then the ending came and we saw that Wade baked for Zoe. This has to be the most adorable thing he has ever done on this show. I even said, "awwwww" out loud. These two are headed for a relationship whether they like it or not, actually, they're basically in one right now. I am loving it and I am loving how Wade's character is right now.

Overall, I think this episode was pretty decent. It had a sweet and innocent theme that left me smiling. Hart of Dixie is one of the few shows that doesn't stress me out or cause me yell at my TV (I'm looking at you, Revenge). It's a feel good show and that is the kind of episode we received tonight.

Tags: Hart of Dixie, Reviews
From Around the Web