Tonight's Criminal Minds loped right past disturbing and dove straight into the dark pond of torture porn. To say that it's difficult to ignore the image of the girl getting her arm sockets deliberately dislocated by the sadistic UnSub - while processing the rest of the episode - is an understatement.

We're used to seeing the writers of Criminal Minds allude to cruel treatment of victims without overtly displaying much of it. We would see the axe begin to fall before the scene abruptly changed, and that would be enough. The writers left it up to our imagination to fill in the blanks. This scene was a departure from the norm, and was tough to watch.

That aside, the idea of the human marionette dance - a performance obliqued referred to as "a lullaby dance" by Matthew Gray Gubler in our recent interview with him - was haunting and bizarre. The music would have been almost enjoyable, had it not been for the knowledge of all of those limbs that had to be dislocated in order to pull it off (no pun intended).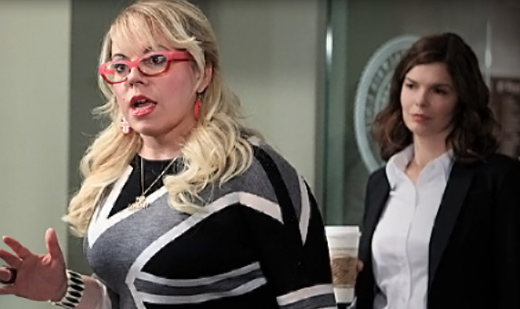 The story of "The Lesson" itself was an interesting one: man comes back from a coma and wants to change the history of his father's death by re-enacting it with marionettes who jump in to save him. From the beginning it seemed obvious that his companion was a construct of his imagination - as was his audience. I always find these scenes fascinating in that these phantom companions give us some good clues into the psyche of the murderer, much like we see in Dexter when he converses with his dear departed dad.

It was good to see the story of Reid and his mystery love interest get ramped up a bit, even if it only teased us.  If it wasn't for Reid's understandable paranoia about her stalker, they would have met up in the restaurant. At least we know that they truly seem to be playing in the same romantic ballpark, with their mutual love of Sir Arthur Conan Doyle's books, and their coincidental gifts to each other of the same title "The Narrative of John Smith." Reid's concern about the possibility of his appearance was sweet, and it gave us a chance to see more of Blake's kindness and concern - even to the point of the encouraging text message she sent to him just before the date. 

(Check out this week's Criminal Minds quotes for some touching dialogue surrounding Reid's romantic activities.)

I think Gubler did an excellent job playing Reid and directing this episode at the same time.  Kudos too to Brad Dourif, who did some intense work in playing this week's disturbing UnSub.  You may also have recognized Sean Whalen who played the store owner who left his shop to warn the UnSub about the FBI investigation. 

What did you think of the episode overall? Do you think Reid's paranoia about the stalker fed conveniently into his anxiety about meeting his love interest or was that just a happy coincidence for him? Are you warming to Blake, or are you withholding judgement for now? Let us know in the comments!

Douglas Wolfe is a staff writer for TV Fanatic Follow him on Twitter

. Tags: Criminal Minds, Reviews