Hart of Dixie Review: Amazing Facts and Feats
by Carla Day at .
Zoe oh Zoe, what are you doing? 
Zoe's look of disappointment over George's acceptance of her relationship with Wade was not a fleeting response last week. Instead, it was a heartfelt admission that she isn't entirely into Wade. Zoe's disregard for his feelings at her door step and moving forward made the once fun and adorable Zoe into an unlikable gal.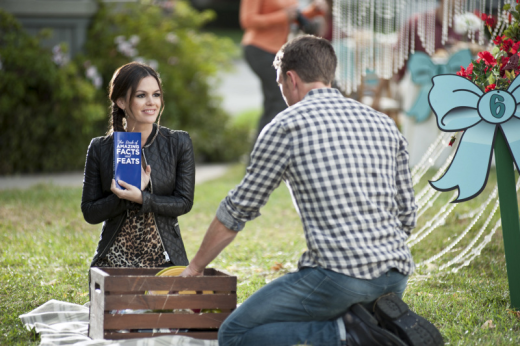 In "Sparks Fly," after six days of separation, Wade put his heart out there and asked Zoe to go on a real, traditional date with him. Of course in Bluebell that means bidding on a charity basket to win a picnic date with him. Is Zoe selfish? Clueless? I'm not sure, but her reaction didn't make her look very good. All the guy wanted was to have a meal together and Zoe treated it like he was asking her for a lifetime commitment. 

Zoe did end up buying Wade's date from Magnolia, but really the damage had already been done. She only made the situation worse by bringing The Book of Amazing Facts and Feats as a conversation starter. I don't get it. She has had plenty of conversations with Wade in bed and out, why is this so difficult for her? I just wanted to knock some sense into her.

But, is it possible that Zoe really does like Wade and wants to move their relationship forward, but is afraid? Initially Wade was a placeholder for George, but is he still? Now that their arrangement is off and she understands why he is avoiding her, perhaps she will start to recognize her own feelings for him. This mean, selfish Zoe is annoying and needs to go away.

While Zoe may have been had a placeholder for George, he was going full steam ahead in wooing Tansy. And, it worked! Unlike Wade and Zoe, George and Tansy embraced their differences and used them to help the other experience new things. Who would have thought that George would break into a car? He did it and he loved it. They were joy to watch together. Whether it will be a long lasting relationship or not, who cares. They enjoyed each other in the now.

Unfortunately, Lemon was not nearly as lucky with her basket bid. She unwittingly bid on the wrong basket and ended up on a date with her former love, Lavon. Though not the way either of them planned to spend their date, it ended up helping them both get closure over their failed romance. It was touching when Lavon credited Lemon with teaching him how to love. Despite her feelings for him, she saw how much he loves Ruby and supported that. Plus, she had a guy waiting for her at the bar!

Eventually, it would be awesome to see Lavon and Lemon get together. Just like the timing isn't right for Zoe and George, it isn't for the Mayor and his first love either. Though, they all could end up happily in love with their current prospects as well.

Whether Zoe was acting out of insecurities or an undecided heart, she hurt Wade and he didn't deserve it. Please let her come to her senses and soon. Wade is a good and sexy guy, who cares about her. What more could a girl want? 

Did Zoe drive you crazy this week too? Or, do you think she handled the situation appropriately? Who was your favorite picnic pairing?

Carla Day is a staff writer for TV Fanatic. Follow her on Twitter and on Google+.

Tags: Hart of Dixie, Reviews
From Around the Web