Rizzoli & Isles fans were treated once again this week to the sight of Jane's estranged lover, Lt. Casey Jones. What's the "Over / Under" that we'll get to see Maura's mother, the other serious dangling plot point, during next week's winter finale?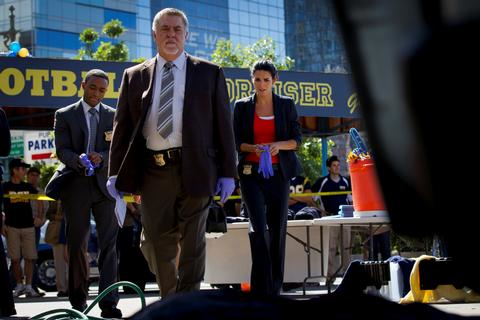 I was both happy to see Casey, yet highly disappointed. No doubt the guy is going through Hell, but he's sending Jane such mixed signals that he had my stomach turning during each scene.
First he showed up at her place of work, but swore it wasn't to see her. Then he shared that he's having surgery that could possibly heal his paralysis... only to tell her that they're over.
It was as though he kept dangling the carrot and then pulling it away. With every interaction you could feel the hope well up in Jane, only to have him crush it over and over. It all seemed utterly cruel.
And, as usual, Maura was there to help pick up the pieces and hopefully buy her some new socks. It was both funny and poignant when Jane ditched all of her single socks and told Maura in this Rizzoli & Isles quote…
 They don't have partners and they're making me sad. | permalink
My heart just ached for her because when your heart is breaking, even the little things are painful.

Frost and his Mom were kind of adorable. Of course he knew that she and Robin were in love. He's her son and a detective. I would have been disappointed if he didn't.  And the fact that he invited them to Massachusetts, one of the states where same sex marriage is legal, in the hopes that they'd get hitched was very sweet.

Another winning scene was Camille and Angela's chat at the cafe. The two women quickly bonded over divorce and raising independent, sometimes stubborn children.  Their similarities far outweighed their differences.

The murder of the week was rather gruesome, mostly because I never expected Enzo to get his throat slit while sitting in a car wash. That McKenzie could kill a friend so easily and brutally because he suspected his scheme was truly scary. I wonder how much he'd made rigging bets over the years.

So will we ever see Casey again? Will Jane try to convince him not to have the surgery? And will next week's Rizzoli & Isles Season 3 winter finale - on Christmas night  tie up any more loose ends?

C. Orlando is a TV Fanatic Staff Writer. Follow her on Twitter.

Tags: Rizzoli & Isles, Reviews