Nashville Review: Tired of Holding the Cape
by Dan Forcella at .
"You Win Again" was a particularly great episode of Nashville for a few reasons: the political story rightfully took a back seat, the levels of emotion on display were through the roof, Chris Young and Brantley Gilbert showed up for a minute, and of course, part of the hour was filmed at and took place at my alma mater.
I attended graduate school at Belmont University, graduating just last spring, so I couldn't have been more excited to see Avery Barkley playing in front of the iconic Belmont Mansion as Scarlett watched from the crowd on the quad. In reality, that wasn't the best place on campus for a concert, but Nashville made it look like it would have been a great event!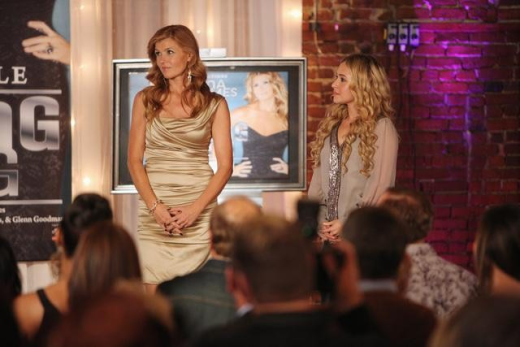 All signs point to the fact that Nashville the city has really embraced Nashville the show, and that was certainly the case when it was announced that they would be filming this concert at Belmont. As an alumnus, I received an email about the event that praised the series, encouraging all current students to come out to the concert to be in the crowd. It's seemingly a perfect marriage between city and series.

Speaking of marriages, let's take a look at Rayna's not-so-perfect union with Teddy as I introduce you to the band...

Teddy Conrad
I'm glad that the mayoral race is over because it has been well documented how poorly that story line was working, but I was beginning to think that Teddy just wasn't all that interesting of a character when I was also not enjoying his conversations with Rayna about their failed marriage. However, he won me back when he uttered the words to Rayna, "All I wanna do is win you back."  

Watching his heart drop down to his stomach as Deacon boarded that plane was equally depressing and exciting, which always makes for great television.

Rayna James
She's back on top! Rayna has been stealing the show at all of these concerts, Juliette's referring to her as a super hero and she's being wooed by other record companies. Unfortunately none of that can save her marriage, and none of that will make up for leaving Deacon in rehab while embarking on said marriage.  

How about that heated conversation with Deacon?!?! The two of them were really giving it to each other and I couldn't get enough of it. He asked her if Teddy was still cheating, she told him that they quit because he couldn't stop drinking, and eventually Deacon said to Rayna, "You lost faith in me." It was a seriously powerful conversation, which made him getting onto that plane all that much more interesting.

Deacon Claybourne
My main man Deacon had a heck of a lot going on during "You Win Again." There was the aforementioned tiff with Rayna, he was dealing with the hack-job of an article that said he fell off the wagon while on tour with the Revel Kings... and then there was the Jolene's trial that he was on board to help with. He was being pulled in a number of different directions, and wasn't dealing with it well, even though he did manage to knock some sense into Juliette.  

Leaving his place as the disaster area that it was when Juliette found him, Deacon finally took the girl up on the offer to play in her band, and it was awesome to hear him reveal that to Rayna while seated in his shades like the baddest dude on the planet. Could things get even more interesting?

Juliette Barnes
Although her hatred for Rayna grew to new highs, and the eventual courting of Deacon to play guitar may lead to a reversal of dynamics on stage with Liam now out of the picture, the most interesting aspect of the hour for Juliette was her relationship to mama. Nashville has handled this story well, letting Jolene slowly work her way into being a character that you could see Juliette still not forgiving but accepting to a degree.  

That emotional conversation, in which Hayden Panettiere let the tear ducts have some exercise, was fantastic. The only thing that will be better is when Jolene steals from her, or does something else equally as awful later on in the season. That has to be coming, right?

The Kids Club
With politics out of the picture, Avery, Scarlett and Gunnar won the award for the plot I cared least about. Of course I enjoyed the scenes at Belmont, but not until the final moments was I all that interested in the slow move toward getting Scarlett and Gunnar together with Avery's old band. That final moment was great, though. Watching as Avery drove by to see the two of them with his group, his friends, was just great. And Scarlett's miniature evil laugh, even though it was likely no supposed to be read as such, was even better.

The intensity, the emotion, the music, and the smashed in guitars were put on display. What were your favorite moments from "You Win Again?" Was it one of your favorite episodes of the season? Or did it not live up to Nashville's standards?


Dan Forcella is a TV Fanatic Staff Writer. Follow him on Twitter.

Tags: Reviews, Nashville
From Around the Web