NCIS team members returned to what they do best on "The Chosen One:" fighting terrorism and undercover work. 
NCIS: Los Angeles Season 4 has been very hit or miss with its episodes. This week was better than many, though, because it focused on a life or death situation of terror.
This season has been missing an overall story arc that others have had with Callen's back story, the Chameleon or Hetty's past. It looked like this one would be about Sidorov and Sam's wife, but that hasn't been addressed since it was introduced, with the exception of a passing comment. The season is past the half way mark, so perhaps it won't be picked up again until the end of the spring, if at all.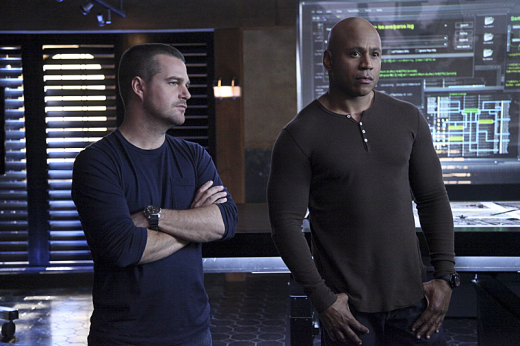 On "The Chosen One," a routine traffic violation turned violent after the police officer asked to take a look inside the van. The officer's memory of a fast food bag provided the integral clue to break open the case: a chicken in checkered pants. It's amazing the small details that can be important. Eric and Nell used their traffic cam voodoo and located the van abandoned in a parking lot. 

The van was empty, but the terrorists weren't neat freaks (like the rental car agent), leaving a visible amount of ammonium nitrate behind. They were able to track the Chechens and, due to Kensi's quick thinking fish talk, get access to to Jamal Avlurov's phone. Despite his precautions, NCIS was able to infiltrate Avlurov's terror cell.

It was pretty convenient that Callen looked so similar to the contact, Anwar Amurov. Despite that, it was a risky operation he undertook with plenty of opportunities to be discovered. The pizza delivery was a big one, but the threat to call the cops was enough to get the item in the door. Callen was able to get the camera button, but decided to leave the ear piece behind. 

Callen's interaction with Gloria was enlightening. It was sad to see her faith corrupted and her disenchantment with life and country. At one point, I thought there was a glimmer of hope she wouldn't go through with it, but then she did. She killed herself for the plan.

While we never found why Anwar was willing to kill himself, through Callen, we saw the process of being a suicide bomber. At any moment, he could have blown himself up. His undercover gig was much more dangerous than he possibly expected going in. He was doing well too, until he wrote with the wrong hand. Ouch. A terrible tell and one that could never have been accounted for.

Callen's team had his back though and got to the warehouse in time to save him. Their ability to work together is a highlight of the show. When Sam caught the pressure switch bomb, he saved Callen's life again. Case closed. They saved lives that day.

Even though the undercover case was enjoyable, the best part of the episode was all the fish talk. Sometimes the banter theme is on the ridiculous side and doesn't always work, but in this case, it was awesome. A doppelganger fish tank! That Hetty appropriated the tank was even better. But, the highlight had to be when the guppy scared all the other fish away!

Did you enjoy a return to a terrorism based case? Undercover work? Which fish doppelganger was your favorite?

Carla Day is a staff writer for TV Fanatic. Follow her on Twitter and on Google+.

Tags: NCIS: Los Angeles, Reviews
Want more NCIS: Los Angeles?
Sign up for our daily newsletter and receive the latest tv news delivered to your inbox for free!
More From TV Fanatic
On Tyrant, Bassam attempts to find a peaceful resolution instead of a revolution. Will he succeed?
On tonight's Covert Affairs, Annie and Auggie switch jobs and head to Paris. Will Auggie succeed in the field with Annie as his handler?
Usually it's insults that get tossed around on The Real Housewives of New York City Season 6 Episode 20 but Aviva threw out a leg. Her own! On the dinner table. We attempt to make sense of the nonsense in our +/- review.
On Perception, Daniel and Kate try to track down a missing baby. Kate also must deal with Donnie's talks about their own future children.
---