The Americans is faced with unusual task: make the premise of two KGB agents living on U.S. soil into a frightening concept.
This is difficult to achieve because - SPOILER ALERT! - the Cold War is over. There was no major Russian attack, no significant intelligence breach. So what should viewers make of Keri Russell's Elizabeth and Matthew Rhys's Phillip? That they gave it a good shot, but history tells us they ultimately failed?
Of course not.
Yes, the pilot of this new FX drama stakes out the role of this undercover couple as to infiltrate the enemy. But it's clear The Americans will focus less on this agenda and more on what transpires between the married twosome, as it attempts to ask and answer the question: Who really is the enemy? And what happens when you think that enemy is lying under your covers?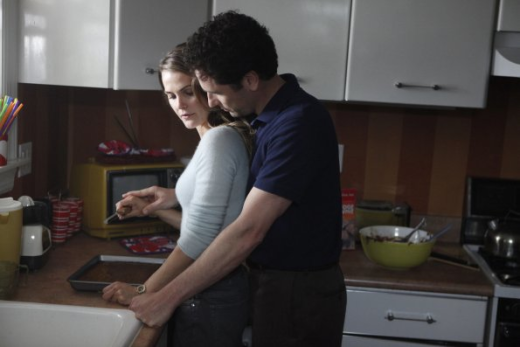 The end result of the Jennings' actions may be preordained because we know their country does not win the big battle - but the direction of their relationship is what this excellent drama wants viewers to ponder.

We meet Elizabeth and Phillip after they've been in this country for 16 years. It's not difficult to see how even such a major lie can start to feel like the truth after such a long period of time, especially when one is keeping up one's American front for two children.

Phillip and Elizabeth certainly love their kids, there's nothing fake about that. So it's understandable that the former would start to lean more in the direction of his actual family than his government family as time goes on, especially as he grows accustomed to the American way of life... and stops speaking Russian... and learns - as so many might in this day and age - that the enemy actually isn't so bad once you get to know it.

But this isn't the case for Elizabeth, and we learn why in a harrowing scene. She had the humanity forced out of her as a teenager. The rape could have turned her against her country, but instead it turned her into a cold human being, someone entirely focused on the task at hand.

You're my wife, Phillip says at one point, pushed away once again. Is that right, Elizabeth asks, summing up the series in a single response.

It should be fascinating to watch these two play against each other when their agendas clash and then with each other when the task calls for it, as we witnessed to conclude the extended premiere.

It's especially jarring because Keri Russell and Matthew Rhys are playing so against type. These are significantly tougher roles than what was asked of either in Felicity and Brothers & Sisters, respectively. Oh, and Rhys is donning a perm. Perfect.

The 1980s setting is perfectly placed in the background in the pilot, with simple touches including the perm, the use of pay phones and the terrific soundtrack that includes Phil Collins and Fleetwood Mac. It was a very different time, but the theme of a marriage in trouble, of secrets being kept between partners, translates to any era.

Granted, Noah Emmerich's FBI agent moving in next door feels a bit contrived. That's a rather easy, obvious obstacle to throw at Phillip and Elizabeth right off the bat. But it's also a rather small complaint.

Overall, The Americans is everything I'd expect from FX: an original concept with a pair of fantastic leads. The Cold War may be over, but my interest in the disintegration of this marriage is only just heating up.

What did you think? Grade The Americans premiere now:

Matt Richenthal is the Editor in Chief of TV Fanatic. Follow him on Twitter and on Google+.

Tags: Reviews, The Americans