The Mindy Project Review: No Assembly Required
by Chris O'Hara at .
Mindy Kaling and her team put together another great episode tonight,as "Bunk Bed" was hilarious on multiple levels, successfully blending observational and physical comedy.
The opening scene was especially clever, with Mindy imploring her date to Web design their horse back to life. Good to see Mindy back out dating, but also that she hasn't lost a step when it comes to witty comebacks.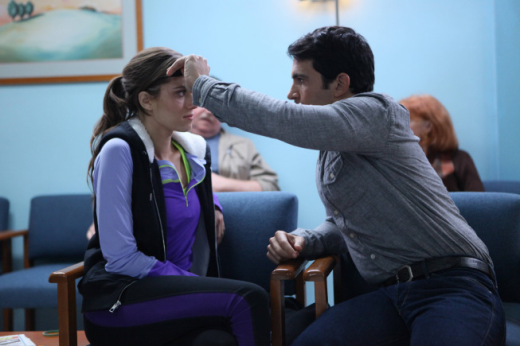 For those eager to hash tag #Dandy, it looks like the wait will continue, even though conversations between Mindy and Danny were funny as ever and charged with all kinds of sexual energy. Danny asking Mindy if she was going to use the bunk bed to lure in marines to hook up with topped my list of Mindy Project quotes this week.

Guest star Allison Williams (Girls) was pretty irresistible, too, even with the eye patch. Danny definitely had a moment with her when he looked into her eyes. What was even more telling was how he showed the same brand of school boy flirtation through insults with her, like he has with Mindy. 

The chemistry is still very much there though between the two love starved doctors. I loved all their banter while Danny "assembled" the bunk bed. 

For all the laughter the great writing on this show produced from me tonight, my hardest guffaw went to Morgan as he smashed the cinderblock into the mailbox. I will also be aggressively looking for the outtakes from the scene where he tried to hug Danny back at the office. 

The interactions between Mindy and Gwen were very good and did well to give some much needed substance to their relationship and rounding out an episode with very little assembly required. What did you think?

Tags: Reviews, The Mindy Project
From Around the Web