Savino went on a "Road Trip" from Hell this week on Vegas, thinking he was picking up one prize but collecting quite another.
With the hype of last week's promo filling my thoughts, I was a little disappointed in this episode. Because we knew Rizzo was going to go after Jack, it felt like a long time to get to the main event. And even with Savino's warning, Jack walked into an obvious trap.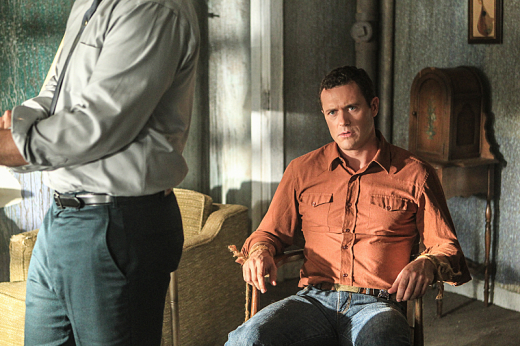 That Rizzo ended up dead at the end of the confrontation wasn't a surprise, but it looks as though what happens next will be the twist in this plot. I only hope that Jack and Mia can survive the aftermath. They have way more chemistry than Ralph and Katherine, the only other potential couple on the strip.
Speaking of Katherine, just because Laura disappeared didn't mean she was shutting down her investigation. It just meant she had to consider other options.
Making a deal with Jones for dental care seemed so easy. Too easy. But I did love that Katherine didn't run and hide when it all went to Hell. It may have been full of bravado, but I still enjoyed her Vegas quote…
 Gun fire doesn't bother me. I was only thinking about hitting Jones right between the eyes. | permalink
The girl had the guts to face an armed, trained killer but failed to come out and say how she felt about Ralph. If the lack of a relationship with him was one of her regrets, I wish she would have just come out with it. I hate it when revelations are only half said.

Dixon was turning out to be quite the lawman and playboy. He had no problem jumping into bed with his crime victim. And even though Faye tried to poison her own sister, I still felt a little sorry for her. With parents like that I could see where she got her selfish, mean streak.

The best storyline of the night was Savino's road trip. From the boys' banter in the car to their fights while they were freezing in the desert, they shared some of the funniest moments of the series thus far. Cota finally remembering he had his lighter and the ride with the horse were some definite highlights.

But it was heartfelt too, with Savino befriending the young girl who reminded him of his own daughters so far away. The fact that she was reading one of my favorite books, To Kill a Mockingbird, only made me love her more.

Once again I enjoyed Vegas, and even though I had looked forward to other story lines, Savino proved himself the biggest draw of the show.

C. Orlando is a TV Fanatic Staff Writer. Follow her on Twitter.

Tags: Reviews, Vegas