In an attempt to freshen things up this season, American Idol has introduced a series of changes to its format. But how original are these changes?
First there were the nominations, where Randy Jackson hand delivered invitations to Idol hopefuls. Kind of like The Voice. Then they separated the boys and girls for Hollywood Week and pre-arranged the groups.
Tonight, Idol takes a page from The X Factor's audition process with its first-ever Sudden Death Semifinals.
The first 10 semifinalist girls will sing in front of the judges and a live studio audience. At the end of the night, only half of them will remain standing. Who will make the cut? Let's find out now...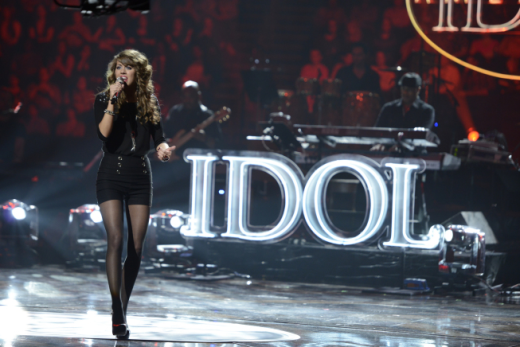 In the sudden death round, contestants can choose any song they want to sing from any genre. In the event that the judges are split on whether contestants should stay or go, Jimmy Iovine will be the tie-breaker.

To start off the night, Jenny Beth Willis, 17 year old high school junior from Owensboro, Kentucky, takes on Trisha Yearwood's "Heaven, Heartache, and the Power of Love." It's tough to go first, and it's tough to sing live. And she's only 17. While the song was fine vocally, her performance lacked dazzle. But, hey, at least it wasn't a ballad. Keith says it wasn't the best song for her but she was easy to watch. Nicki likes her voice but didn't feel like she was alive. Randy calls it "jerky." Mariah says the verses weren't dynamic. My vote: It might be curtains for Jenny Beth tonight.

Tenna Torres, a model from New York, attended Camp Mariah when she was a teen. At 28, this is her last shot at the Idol crown. She gets off to a rocky start with Natasha Bedingfield's "Soulmate." Her weakness is in her lower register but when she's able to open up the notes a bit, she shines. Keith didn't know the song but says she mostly maintained control during the song. Nicki calls her a throwback artist and said, rightfully, that there's no one out there right now who sounds like she does. Randy says that this was the actual starting point of the night. Mariah compliments her on feeling the song so completely. My vote: Tenna sails on to the Top 20.

Hailing from Anchorage, Alaska, Adriana Latonio goes way back and chooses Aretha Franklin's "Ain't No Way." It's a solid performance for her soulful voice, but she's 17. Choosing a big Aretha ballad aged her, even if she sang it well. Keith says it was hard to react because it was "so damn good." Nicki comments that she's tiny but commands the stage with confidence. Randy loves it. Mariah calls it "really nice" and gave her an A+. My vote: She'll follow Jessica Sanchez' footsteps for at least a few more weeks.

Brandy Hotard is a psychiatric nurse who has been working since she was 16 to make it to the Idol stage. She sings Travis Tritt's "I Don't Love You Anymore." I want to like her. She's beautiful and she has a great voice, even if she also struggles with her lower register, but the performance is boring and the arrangement is weird. Keith loves that she did the song because he's never heard a girl sing it. His issue is that she felt emotionally inconsistent. Nicki tells Keith to get out of her head and stay out of her head and calls Brandy's performance a "pageant delivery." Randy says she has a great voice but the song choice didn't tell him who she wants to be as an artist. Mariah said she just saw a beautiful person who sang a song so the lack of emotional connection didn't bother her. My vote:  Bye bye Brandy.

Another 17 year old contestant, Shubha Vedula once won her school $35,000 in a singing competition. She does something different and starts out behind the piano with a stripped down version of Lady Gaga's "Born This Way." There's a sitar in the ensemble and pizzazz in her voice, but the tempo is off. She's the first contestant of the night to pick a current number that says "see me as an artist." Keith says there was a lot going on in the number but her voice powered through. Nicki echoed Keith. The number was confusing and wonders if Shubha is trying to be a comedian. Randy and Mariah wish that she'd stayed behind the piano. My vote: I want her to have another chance, but I fear she just did herself in.

Kamaria Ousley is no stranger to music. Like Melinda Doolittle, Kamaria is a backup singer looking for her chance to step into the spotlight. She starts "Mr. Know It All" by Kelly Clarkson in the wrong key. She never seems to find the key and the performance is terrible. Keith says they know she can really sing to have made it this far, but she chose the wrong song. Nicki compliments her outfit to start off with something nice but then says that the performance didn't work. Randy calls it her worst performance and says there was nothing redeemable about it. Mariah says she's kind of obsessed with Kamaria's happiness and that she would've done better with a different song. My vote: She's done.

Aspiring country artist Kree Harrison moved to Nashville to try to live the dream. She sings "Up To The Mountain" by Patty Griffin. She's so effortless when she sings. Her voice is bluesy and very pure. She's not trying too hard to be something she's not. Keith calls her authentic after giving her a standing ovation. Nicki says the other girls should be afraid of her and says that she's an artist. Randy calls her a natural born singer. Mariah says she's incredibly organic and that she "sang the hell out of" her song. My vote: Kree goes easily to the Top 10 of the competition. Maybe even Top 5.

Angela Miller wowed the judges with an original song during Hollywood week. Tonight she chooses Jessie J's "Nobody's Perfect." Even though it's a slow, it's a current ballad that shows where she fits in the landscape of today's artists. It's theatrical and beautiful. Keith says she can do a lot with a little. Nicki says she loves her and that after her original number, she's already a top contender in the competition. Randy calls her one of his favorites and says that her voice is one that can sing anything. Mariah says she has limitless potential and hopes the world gets a chance to hear her original song. None of them seemed interested in complimenting her on the performance she gave tonight which was actually one of the best performances of the night. My vote: Angela joins Kree in the Top 10. Angela makes it all the way to Top 3.

From Johns Creek, Georgia, Isabelle sings Billie Holliday's "God Bless The Child." She doesn't just sing it. She SINGS it. It's powerful and fantastic. Keith says that performance is the key to the side of the heart of all the guys who never asked her out in high school. Nicki tells her to be proud of herself. Randy gives her props for being an inspiration to boys and girls and calls the performance a little old-fashioned. He didn't love the arrangement. Mariah wishes the arrangement had been simpler. My vote: She can sing, but I think she'll be leaving on a midnight train to Georgia tonight.

The final performance of the night comes from Amber Holcomb from Houston, Texas. This is her second time to Vegas week. She chooses "My Funny Valentine" and my biggest critique, aside from wishing she'd chosen a different song, is that she needs to enunciate. She drops syllables with runs and I didn't enjoy it nearly as much as the judges did because of that. Keith says she has great breath control and made an old fashioned song timeless. Nicki says her vocal was fantastic but didn't think her personality shined through the song. Randy tells her to stop doubting herself and complimented her on knowing when to have a power moment in a song. Mariah says she wanted to smack her for making the song so good. My vote: She's probably safe. Probably.

So now it's time for the Sudden Death cuts. The judges were unanimous in their decision to send 5 of the 10 girls home so Jimmy Iovine's input will not be needed. In no particular order, the girls are called before the judges one by one.

Jenny Beth Willis suffered by going first. The girls who came after her were just better. She's going home. Brandy Hotard is called in front of the judges next. Nicki says she shines, but she's not right for this competition. Bye bye, Brandy. 

Tenna Torres will be sticking around. So will Kree Harrison. 

Isabelle gave a strong vocal performance and the judges were mixed on their decision for her. Unfortunately for Isabelle, she's going home. Angela Miller is safe, which is a no-brainer if there ever was one.

Kamaria Ousley gets ousted. Amber Holcomb is staying. 

Shubha Vedula and Adriana Latonia are the final two contestants. Keith says that regardless of how this plays out tonight, millions of people have seen them and know their talent. He says they fought for Shubha and Adriana had them on their feet. However, only one of them can advance and that person isn't Shubha. She's going home.

And with that I was five for five on who would be eliminated tonight. I was most sad to see Shubha go because I really think she deserved at least one more week. I would've sent home Amber in her place if I were making the call. Oh well. Shubha's young. There's always next year.

A few thoughts about the Sudden Death format before we wrap this up. While I like it, the elimination is somewhat clunky and awkward. It also seems awkward to send people home in groups of 10 when there are 20 men and 20 women in the competition. What if the 5 who went home tonight are better than the 10 who sing next week?

However, sending them home one by one as they perform isn't a great way to do this either. So I guess I'll take clunky and awkward over what we've had in previous years. This feels new and different and was a good way to help refresh the aging reality show against its younger and more hip competitors. So, bravo, American Idol for finding a way to make things feel new again.

What do you think of the Sudden Death format? Were you surprised by any of tonight's eliminations?

Miranda Wicker is a Staff Writer for TV Fanatic. Follow her on Twitter.

Tags: American Idol, Reviews