The Americans Review: Running Around Like Cut Off Chickens
by Carla Day at . Comments
The Americans has the difficult task of making the Cold War spy game suspenseful when viewers know how it ends. "In Control" proved they can do just that. 
Even though the history's been written about the assassination attempt on President Reagan, the fear and potential ramifications had me on the edge of my seat as a potential tipping point in the war. It didn't matter that historically the United States and the Soviet Union didn't face off over this, because it could have happened. And, along the way there were casualties, like Elizabeth's execution of the security guard.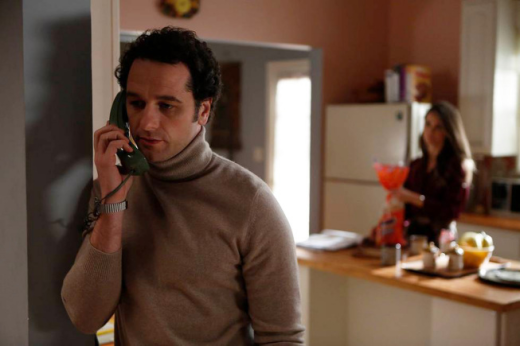 Reagan's shooting showed both sides feared each other, but that they had fundamentally different points of view on reality and what that meant going forward. The FBI immediately began investigating whether or not John Hinckley, Jr. had any connection to the Soviet Union for fear that the assassination was the first move in a greater threat.
The Soviet Union knew they weren't responsible, so their concern was whether they would be blamed for the attack, and more importantly, whether or not they were at greater risk with Reagan out of commission.
The big scale threats between nations were effectively brought down to a personal level through Agent Beeman, his Soviet asset, and the Jennings. They were risking their lives to get to the truth and one wrong move could spark retaliation.
Beeman's meet with his asset was outside normal procedures, but given the circumstances understandable. The FBI needed to tap any source to prevent an escalation and her information helped prove that the Soviets weren't involved.
More intriguing was the Soviet response. They immediately moved to take advantage of the presumed instability that would follow, especially given Secretary of State Haig's "I'm in control" statement. They were preparing for an American coup.
The differing views of Elizabeth and Philip -- even though they were both on the Soviet side -- were reflective of the two opposing world views. The Soviets reflected their own political instability on to the American government, which Elizabeth also believed. 
Philip, on the other hand, understood that the American government would not fall over this. As he said, "Haig could have ten nuclear footballs and it still wouldn't be a coup." And, he understood that his government's lies regarding their leadership was not reflective of the US.
His decision to hold back the questionable Haig intelligence perhaps prevented the military escalation of the Cold War. One wrong move, by one operative, and the story of the Cold War could have had a tragic ending. 
Philip and Elizabeth's closer personal relationship and marriage is beginning to grow into a trusting one at home and as operatives. The flashback to Elizabeth's childhood helped explain why it has taken her so long to let him in. And, her acceptance of Philip's decision and agreeing he made the right call will only strength their growing bond.
When watching Titantic, the big picture ending was pre-determined, but it was what happened to the characters that drew viewers in and made people cry. The Americans has been exceptional in this way. The end of the war may be known, but the ride along the way is full of tension and victories by both sides.
Odds and Ends
Nice inclusion of Paige's reaction to the assassination attempt. Going forward, it will be increasingly difficult for Elizabeth to see her children grow up as Americans. Will she doubt that decision?
Sending a coded message was quite an involved task back then. 
"My dad's just a travel agent." -- If only she knew...
"Travel agenting is a world filled with peril." -- Hilarious.
Operation Christopher is a scary thing. The Jennings are not only in country to gather intelligence, but to make a military move if necessary. This understanding heightens the risk that they could be asked to make in the future. Will in-country nuclear bombs make an appearance on the show?
Is there anything the spies can't do? Elizabeth and Philip got a US government car and were believable as government representatives from the Vice President's office.
The Jennings' marriage may be getting better, but the Beeman's marriage is falling apart.
Beeman has unwittingly become a Soviet asset and US government leak. Will this come back on him? Or, end up tipping off the FBI about the Jennings?
Carla Day is a staff writer for TV Fanatic. Follow her on Twitter and on Google+.

Tags: Reviews, The Americans
Want more The Americans?
Sign up for our daily newsletter and receive the latest tv news delivered to your inbox for free!
More From TV Fanatic
It's select ensemble vs. elite in a dance rematch this week on Dance Moms. Who came home with the victory? Read on to find out!
On tonight's Tyrant, Jamal and the Sheik meet for negotiations. Will they come to an agreement?
It's time to reunite on The Real Housewives of New York City. Read all about this special episode now.
Who can be trusted? On tonight's Covert Affairs, it's clear that it's important to trust others, but also a huge gamble.
---