The Carrie Diaries Review: Boogie Nights
by Leigh Raines at .
You know the old saying "happiness is the best revenge?" Well... it seems that's what Carrie was aiming for when she brought her new boyfriend George to the winter dance in "Caught."
Sebastian was definitely green with envy, a trait that didn't escape the prying eyes of Donna LaDonna.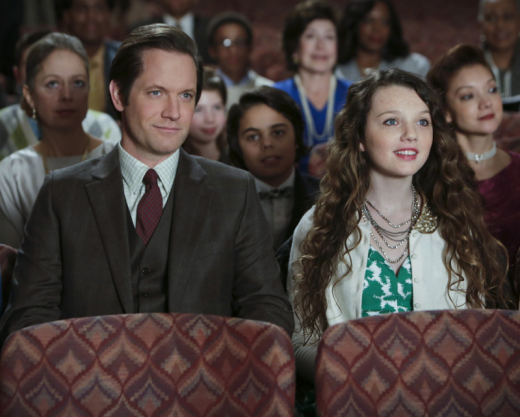 So what do you do when your boyfriend has his sights set on another girl? You blackmail her best friend of course. I'm just kidding, that's so Gossip Girl, and despite my recent realization of Maggie's resemblance to former teen queen Leighton Meester, this is a very different show.

With Walt sick with the chicken pox, Maggie decided to embrace her independence and go to the dance solo. Then, when a slow song hit and her schnapps dried up, she sulked out of the gym - only to find a certain young cop waiting there for her. Temptation arose and Maggie couldn't resist the bait. Too bad Donna was standing there when Maggie finally emerged from the backseat.

Real question: how stupid do you have to be as a cop or a general human being with brain cell to have sex in a parked cop car DIRECTLY in front of a high school? HELLO! It's called a parking space, or a shady tree, or generally anywhere obstructed from the public eye. Seriously, they would've been better off not getting caught in a crowded mall parking lot than in front of Maggie's high school.

Luckily for us and for Carrie, Maggie isn't threatened by Donna's long layers of crimped hair and minced words. She came clean to Carrie about the blackmail and about how she really lost her virginity. Now will she come clean to Walt?

Also luckily for us - and really lucky for Carrie - Carrie broke up with George when she realized he was just another horny pig. Sure maybe Carrie was a tiny bit of a tease, laying the groundwork and suggesting they take off, but George was really pressuring her to have sex. Then when she said she wasn't ready he asked her to finish him off. This was probably the best part of the episode for its true-life authenticity. Carrie told him to beat it, no pun intended, and he tried to play the whole I'm too good for you routine:

George: Are you kidding? Do you know how good you've got it?                                                                                                

Carrie: Yes, I do. And that's why I'm saying goodbye to you George. | permalink

Phew! Girl made the right choice! Now will Sebastian try to get back with her or will she play the field with the newly single Mouse? Should Mouse have really broken up with Seth? And are you interested in Dorrit's storyline? 

Leigh Raines is a TV Fanatic Staff Writer. Follow her on Twitter.

Tags: Reviews, The Carrie Diaries
From Around the Web