Knowing her love of romantic comedies, it was only a matter of time before Mindy took us to The Empire State Building on The Mindy Project. 
As "Harry and Mindy" got underway, Mindy paid tribute to the home of the second best romantic comedy Tom Hanks and Meg Ryan ever made. While I'm sure the top spot in Mindy's opinion is held by You've Got Mail, I would have made a strong case for Joe Versus the Volcano.
Either way, seeing Common pop up as the suspicious security guard who questioned Mindy was a nice way to start things off. Mindy was oblivious but very funny as she chatted away about why she had three cell phones in her bag and the time Kevin Garnett bought her a Coke. While Mindy played lobby stalker, Danny tried to drink away his relationship woes and became the office super sulker.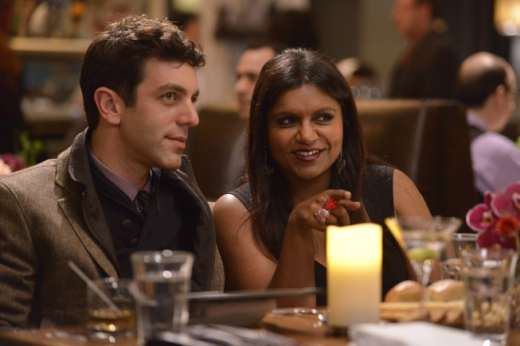 They both have now seen each other in various embarrassing states, but are that much closer as a result of it. Sure, Mindy setting Danny up on a date with Lucy was self serving, but I think part of her also couldn't stand to see him so wounded on the most romantic of holidays. Jeremy, on the other hand, was avoiding what he brilliantly called an "emotional Bosnia," yet still took the time to counsel Morgan in his pursuit of love.

Morgan may not be too smooth with the ladies, but he is always good for a few hilarious Mindy Project quotes, like tonight when he searched for his lost Mike and Ike on the floor. I also could not help but laugh when he took a baseball to the keys while in the batting cage with Jeremy.

It should not have surprised anyone to see Jaime and Lucy end up together, but I would have liked to see the relationship between Lucy and Danny play out a little more. I just felt like everything wrapped up too quickly between the two couples. The final scene where Danny took Mindy to his special pizza place was a nice ending to a tumultuous evening, but I was left wanting something more for both of them.

Tags: Reviews, The Mindy Project