Tonight the American Idol Top 9 take on the Fab 4 in what is one of my personal favorite theme nights: The Lennon-McCartney song book.
Before we can get to the singing and the judging and, you know, the actual point of tonight, we have to get the results of last week's sing-off between Charlie Askew and Aubrey Cleland. Kieran dims the lights and in an unsurprising announcement, we learn that Aubrey Cleland will be headed out on tour. I truly don't think Charlie Askew would've survived the tour emotionally, so this is good news.
Now, back to The Beatles. Finally.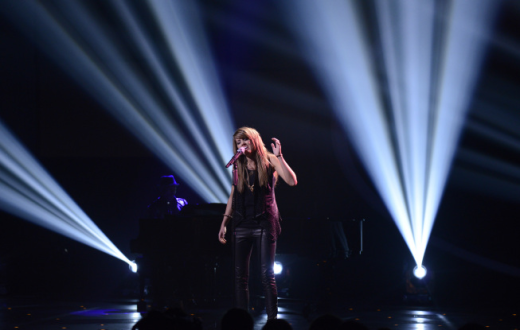 Leading off the night is Kree Harrison. She's never performed a Beatles song and chooses "With A Little Help From My Friends," which was a favorite of her late father's. This girl has a gift for song selection. She knows her voice and her style and I think in any genre she'll play to her own strengths. It's one of the few times in Idol history that I remember being excited by an opening performance. Keith calls it a great way to start and says that she has a way of always being herself no matter what she sings. Nicki says that she's become a superstar before their eyes. Randy says she's "the bomb" and threw down a gauntlet for everyone who comes after her tonight. Mariah said "I didn't think it was good. I thought it was fan-freaking-tastic." Well, there you have it. The judges heard my Kree cheers from my living room. 5/5

Burnell Taylor decided to go with "Let It Be" but he doesn't know the song at all which is a problem because, like Jimmy said, "the rest of the world really knows this song." This song always gives me chills, no matter where I am or what I'm doing. Burnell's version is infused with R&B and makes it sound brand new. There are a couple of low notes that are odd, but the rest is so pretty I can overlook them. His performance was fantastic. Nicki said he caressed the song instead of just singing it and called him a smart artist. Randy commends him for his smart choices regarding making the song his own. Mariah was proud of him and happy for him and loves his realness and consistency. Keith calls Burnell's the most instantly recognizable tone in the competition. If Kree threw down the gauntlet, Burnell just ran it flawlessly. 5/5

Farm girl Amber Holcomb is singing "She's Leaving Home." Jimmy thinks she's definitely not leaving the show with this performance. It's dramatic and vocally strong, particularly toward the middle and end, but she's painting herself into a corner with the big, slow ballads. She's definitely safe, but the performance wasn't my favorite of hers. Randy asked if she knew the song before, and Amber. like Burnell, had never heard her song. Mariah had never even heard the song she sang but gave her credit for trying to connect to the song. Keith said she made the 46-year old song sound fresh. Nicki felt that Amber herself felt defeated by her song choice. 4/5

Lazaro Arbos takes a risk with "In My Life." During rehearsals he has trouble keeping the rhythm of the song. It wasn't good. There were a couple of nice moments, but overall, it just wasn't good. Mariah even tried to tell him it wasn't good by commending him on his bravery and she almost never gives a bad critique. She did say the key was too low for him, and Keith echoed her. Nicki felt like he's lost the confidence he had earlier on in the competition and Randy said he's "not hitting it on all cylinders vocally." 1/5 

Everyone in Candice Glover's small hometown is amazed at how amazing she is. She's chosen to rock it out and put her twist on "Come Together." It's phenomenal. She worked the stage, showed her range, and blew the song away. I was nodding along in my living room and loved every second of it. Keith called it "absolutely killer." Nicki said her vocal was insane, but sometimes she wants to always see the attitude she hears in Candice's voice. Randy said he doesn't know what's going on in Candice's face, but her voice is crazy. He commends her for singing an up-tempo number with her big voice because it's easy to go with the ballads. Mariah said she murdered the song and can do with her voice what no one else in the competition can do. 5/5

Paul Jolley tackles "Eleanor Rigby" and gets the critique from Jimmy that he has to learn when to hold back on some of the power notes he's able to hit. First of all, the staging for his performance is really nice. Second of all, this is the best performance he's had since his audition, but he does weird things with his eyes that takes me out of the moment. He's too focused on performing and not enough on enjoying his performance. However, it feels natural for him instead of the country thing he keeps trying to do. Nicki didn't like it at all calling it "safe, bland, and forgettable." Randy felt like he was disconnected from the song. Mariah feels like his emotions are uneven when he sings and he connects at some times but not at others. However, she thought this was a good song choice for him. Keith wasn't a big fan of the way Paul ended the song, but things Paul's voice is cool and angsty. 3.5/5

Former "Most Likely to be on American Idol" winner Angie Miller slows things down with "Yesterday." I instantly wish she were behind the piano. The arrangement is great and she has some really breathtaking moments during the song. She really shows exactly what she's capable of. However, there's something too theatrical about her standing behind a microphone and I think the piano would've calmed that down a bit. I want her to sing a song without looking into the camera a single time. Randy says she's one of his favorites in the competition and she doesn't need to be afraid to show her rock edge. Mariah agrees and says she did a respectful version of the song by making just a few changes that made her voice shine. Keith felt like she was in her head too much and worrying about what everyone else has had to say to her. Nicki called it "unbelievably amazing" and loved that she sang the song in a higher range than the other contestants would've chosen. 4/5

Devin Velez has some excited younger siblings at home who are voting 50 times a piece to keep him on Idol! He's taking a chance and making changes to "The Long And Winding Road." I really like his voice and think his is one of the better ones in the competition, but there's always something lacking when he performs. There's a disconnect when he sings where I don't feel like I know him. Mariah loves the variety of music he's chosen to sing during the competition. Keith's critique is that Devin's performances lack emotion. Nicki feels like he is committed emotionally every time he sings and feels that he's always honest in his performances. Randy thinks Devin's swagger is back. 3/5

Closing the night is country girl Janelle Arthur with "I Will." Her voice is so unique that just singing this song in the way that she does brings something very new and beautiful to it. Her voice is so clear and there's something almost bright about it. Her performance tonight was effortless and graceful and really showed off the softer side of what she's capable of doing. This is my favorite performance of hers, hands down. Keith loves that she's always doing the country thing no matter the song. Nicki calls her "great" and loved the subtle nature of her performance. Randy gives us a "Janelle is back" and called her amazing. Mariah loved her "beautiful, elegant performance." 5/5

I love when American Idol opens up the Lennon-McCartney songbook, particularly on nights like tonight when most of the performances at least do justice to such amazing songs. My winners for the night are Kree Harrison, Burnell Taylor, Candice Glover, and Janelle Arthur, with Kree, Candice, and Janelle in the Top 3. 

This week's bottom 3 are Lazaro Arbos, Paul Jolley, and Devin Velez. Devin's in the danger zone having been in the bottom last week, but I think Lazaro Arbos might be leaving tomorrow night after his rendition of "In My Life."

What did you think of the contestants tonight? Who had the best Beatles-inspired performance?

Miranda Wicker is a Staff Writer for TV Fanatic. Follow her on Twitter.

Tags: American Idol, Reviews