It's been a long and emotional road for the American Idol season 12 hopefuls.
And tonight the American Idol judges turned the voting over to America to let the public determine the fate of their chosen 20. Half of them will go home. The other half will go on to battle it out for the American Idol crown. 
Who will be the Top 10? Let's find out now...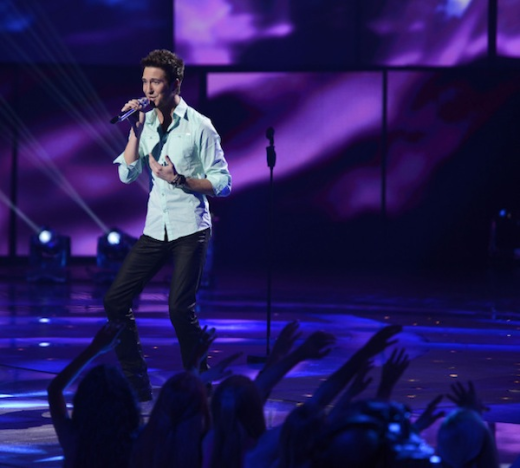 After playing Mariah Carey's latest single "Almost Home," from the Oz soundtrack, Ryan finally makes his way back to the guys' holding room.

The first person into the Top 10 is Paul Jolley. His "victory song" is "Alone" by Heart. Apparently he didn't get the memo that Carrie Underwood wrote the master class in covering this song and no one else should try it. Especially not him. Oh well. Welcome to the Top 10, Paul.

The second person through to the Top 10 is Burnell Taylor, which comes as a shock to no one. He sings India.Arie's "Ready For Love." Burnell has to get his hands under control when he sings. They venture into Jessica Simpson territory. This isn't the song I would've chosen for a victory song, but he rocked it. I'm a Burnell fan.

Curtis Finch, Jr. is the third guy to make it. He tones down his usual churchiness just a bit to sing John Legend's "So High." He has a couple of pitch problems on some of the high notes, but manages to hit the very highest in the arrangement. There's little surprise that Curtis is in the Top 10. He's talented and will definitely stick around for a few weeks.

Spanish crooner Devin Velez is going to join the other three guys on the couches after singing "The Power of One" by Israel Houghton. Devin is an old soul and there's something likable about him even if he's not the best male vocalist in the competition. 

The final male contestant in this year's Top 10 is Lazaro Arbos. His victory song is "Bridge Over Trouble Waters." Lazaro is a nice kid. There's emotion in his voice when he sings and something genuine about his spirit. He's not as polished as the other contestants, but I find myself proud of him for overcoming so much in his life.

Now that the Top 5 guys have been named, it's the ladies' turn.

The first girl through is Janelle Arthur. Her victory song is Dierks Bentley's "Home." As the lyrics say, "it's been a long hard ride" for Janelle and the third time is the charm. After multiple auditions, she's finally sticking around.

Candice Glover, another returning Idol hopeful, is the second girl through. She sings "I'm Going Down" by Mary J. Blige, which is a song in her wheelhouse. Candice slays it. She's awesome. I hope she sticks around for a while.

The third lady to make it to the Top 10 is Angie Miller, which is the least shocking announcement of the night. She chooses "I Was Here" by Beyonce, but I really wanted her to sing her original number again. Her emotions and nerves got her a little and the beginning was actually a little rough, but she settled in nicely by the chorus and finished beautifully. So beautifully Keith Urban cried. If she doesn't make it to the Top 2, I will be shocked.

Amber Holcombe is the 9th contestant into the Top 10. She chooses the Chaka Khan/Whitney Houston song "I'm Every Woman." She definitely brought the energy to the performance. Mariah was pleased to see her make it through.

The final member of this year's Top 10 is Kree Harrison. I almost want to squeal in delight I'm so excited! She sings a relatively obscure song, "Evidence" by Susan Tedeschi. But it doesn't even matter because she's just that great. 

And that's that! The American Idol season 12 Top 10 contestants have been announced in quite the new and different format from what we're used to. It was nice not to have the big dramatic "dim the lights" moment and just jump straight to naming those who made it. While the guys are sort of all over the place, the girls are pretty much who I thought they would be. 

What do you think about the Top 10? Did your favorites make it? Who will you miss most?

Miranda Wicker is a Staff Writer for TV Fanatic. Follow her on Twitter.

Tags: American Idol, Reviews
Want more American Idol?
Sign up for our daily newsletter and receive the latest tv news delivered to your inbox for free!