26 million votes were cast after last night's American Idol. Those votes will help decide the fate of the season 12 Top 10. We'll also get a sing-off from the #11 and #12 contestants who are vying for a spot on the American Idol summer tour.
Jimmy said that after last night it was clear to him that the girls are outsinging the boys. Well, duh. We've been saying that for weeks now, Jimmy. 
Let's get to Jimmy's comments and find out who's going home...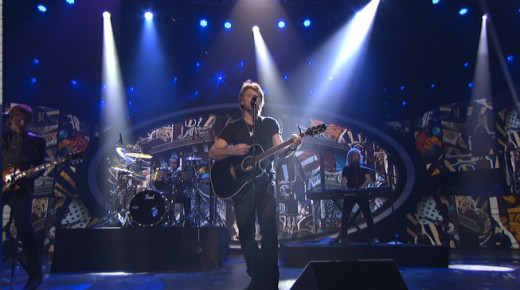 In the name of shaking things up, instead of going contestant by contestant we're getting a quick run-down of Jimmy's comments. Here's what he had to say about last night's performances:

Jimmy thinks Curtis Finch, Jr. will have to change it up in order to stick around. He can't do the church-y R&B thing forever. Janelle Arthur's performance, he thought, "sold him" on her as an artist.

Regarding Devin Velez' choice, Jimmy agreed with Keith that "Temporary Home" was the wrong song while calling Angie Miller a "real talent" but saying that her performance last night wasn't as great as the judges thought it was.

Jimmy thinks his save Paul Jolley should go straight pop instead of trying country. Candice Glover's performance, Jimmy said, is "what music is supposed to feel like" and he called her the night's winner.

Lazaro Arbos could benefit from a thicker skin. Kree Harrison, who does a great job picking her own songs, is in Jimmy's Top 3.

Burnell Taylor, Jimmy agreed, vindicated the boys last night. Amber Holcomb won Jimmy's award for "charisma, [and] overall star power."

In another change in Idol procedure, in addition to finding out the bottom three contestants each week, we'll also find out the Top 3, in no particular order.

Ryan asks Kieran to dim the lights and calls Devin Velez. Devin won first place in Puerto Rico and Janelle won Tennessee. Candice brought home 42% of the votes from the state of South Carolina. 

Candice Glover is safe and in the Top 3.

The group numbers, which usually give me no shortage of chuckles, is from the upcoming film The Croods. I don't know it and that makes it bearable. 

Kree Harrison's mayor shows up to tell her that her city is voting their hearts out and she's always welcome back home. He gives her the key to the city. She's the second member of the Top 3.

Bon Jovi performs. I loved Bon Jovi as a kid. Their song nearly puts me to sleep.

Charlie Askew performs his original song "Sky Blue Diamond" to fight for a spot on the Idol tour. Singing against him is Aubrey Cleland who sings "Out Here On My Own." Charlie's song had more energy, but I think he would crack under the pressure of being on tour. We'll find out next Wednesday which if them will be on tour.

Season 11 winner Phillip Phillips sings his latest release "Gone, Gone, Gone." I instantly miss him on the show and wish he could just be here every week. I'm not ashamed to say I'm a fan.

Back to the results.

Both Angie Miller and Lazaro Arbos took on Kelly Clarkson songs. Lazaro bested Angie in the state of Florida, but Angie Miller rounds out the Top 3.

Lazaro Arbos, however, is also safe in 4th place. Amber Holcomb came in 5th. In 6th place is Janelle Arthur and in 7th, Burnell Taylor. 

That leaves Curtis Finch, Jr., Paul Jolley, and Devin Velez in the bottom three. Paul is safe in 8th place. Nicki says that if Curtis goes home tonight, she'll also go home.

Devin Velez is safe which means Curtis Finch, Jr. will sing for the judges' save, which must be unanimous in order to be used. He sings a reprise of "I Believe I Can Fly" and leaves everything on the stage. Candice is beside herself with tears for the duration of his performance. Ultimately, the judges decide not to save Curtis Finch, Jr., and he's the first of the season to leave.

What do you think, TV Fanatics? Should the judges have saved Curtis tonight?

Miranda Wicker is a Staff Writer for TV Fanatic. Follow her on Twitter.

Tags: American Idol, Reviews