Arrow PaleyFest Panel Teases Black Canary, Mystery Guest Star and More
by Matt Richenthal at .
The cast and producers of Arrow took PaleyFest by attractive storm last night, as Stephen Amell and company gave fans an idea of what to expect throughout the rest of Season 1.
Starting with the bombshell dropped at the end of "Dead to Rights." Tommy now knows the truth. The Hood is out of the bag. Where will things go from here?
It "changes everything," Amell said. "He saw me in the pilot kill three guys. And Tommy's a good guy, he doesn't want to have to reconcile that his friend would do that."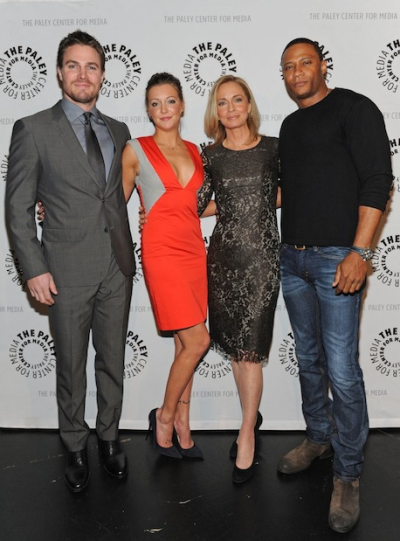 Among other scoops, spoilers and tidbits revealed during a fun Q&A:
Katite Cassidy said Laurel's life will be shaken up by the arrival of her mom: "She kind of gets sucked in by her mother a bit... [she] also has a lot more information than you necessarily think."
Producer Andrew Kreisberg teased Malcolm as an "evil Bruce Wayne" and previewed: "You find out a lot more about Malcolm and what's driving him, and about the very scary-sounding Undertaking."
Yes, Laurel will turn into Black Canary, producer Marc Guggenheim assured attendees, but the evolution must be "earned," he said: "We don't want to disservice Laurel or Oliver by saying she could have a bad day, put on fishnets and start killing people."
Kreisberg offered up this mysterious casting tease: "There is an episode coming up with somebody who is one of the stars of a very popular genre show that you will all recognize and be happy that they're on our show."
Who could that possibly be?!? We have until March 20 until a new Arrow episode airs. So let the guessing games begin!

Matt Richenthal is the Editor in Chief of TV Fanatic. Follow him on Twitter and on Google+.

Tags: Arrow, Spoilers, PaleyFest
From Around the Web