TV Fanatic Works Better with Prime Instant Video
Arrow Episode Guide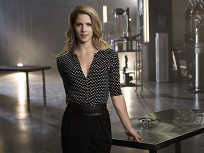 Arrow Season 3 Episode 5 is all about Felicity Smoak. Ready to learn a lot more about this totally awesome and beloved character?
Nyssa returns to Starling City on Arrow Season 3 Episode 4. Oliver, meanwhile, has some suspicions about Merlyn and his past with Sara on this episode.
On Arrow, Oliver decides it's time for Thea to return home. Felicity tracked her to Corto Maltese and Oliver prepares to go, with Diggle at his side.
On Arrow, Det. Lance calls on The Arrow when another archer hits Starling City and starts targeting businessmen. Diggle calls in A.R.G.U.S. to find out who he is.
Arrow is back for Season 3! Look for a new enemy to arrive on the premiere.
When Slade kidnaps someone close to Oliver, the Arrow realizes he might have to do the unthinkable to stop a monster.
Oliver rallies Team Arrow as Slade's Mirakuru army ravages Starling City.
Oliver decides to surrender to Slade rather than allow him to take away everything he loves.
Roy spins out of control on this episode of Arrow. He even attacks Thea.
Oliver, Canary, Diggle and Felicity find Slade waiting for them in the Arrow lair. After an epic battle, a member of Team Arrow ends up in the hospital.