New Girl Spoilers: Road Trips, Returns and Relationships
by Matt Richenthal at .
Will Jess and Nick ever get together? Is there hope for Schmidt and CeCe? How did each character on New Girl lose his/her virginity?
The cast and creator of this hilarious Fox comedy gathered at PaleyFest last night, dishing out Season 2 spoilers that centered on an upcoming road trip, the return of a certain wise Asian man and more...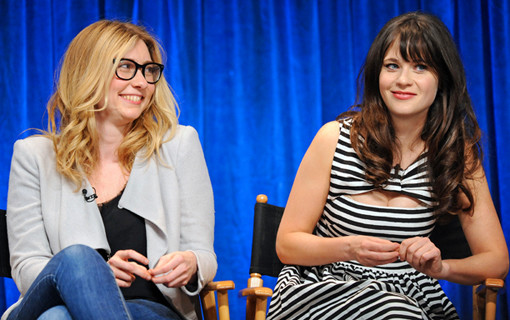 Who is dying? As previously reported, the crew will head to Nick's hometown in a future episode, meeting family members that include Nick Kroll as his brother and Margo Martindale as his mother (Nick is the "smartest of the bunch," Jake Johnson said). But the basis for the road trip isn't exactly uplifting? Nick's dad is dying.

Who is returning? Nick's older, water cradling Asian friend from "Menzies."

Will we ever learn Schmidt's first name? There was a plan for the reveal this season, but creator Liz Meriwether axed it at the last second. Said Max Greenfield: "I like just Schmidt. I don't ever want to know what it is."

Who lost it and when? The sitcom is filming a flashback episode in which we learn how each of the roommates lost his or her virginity. SPOILER ALERT: Schmidt's experience nvolved an excessive amount of lubricant.

As for Nick and Jess... ? Meriwether said there is no immediate plan to make these two official, with both Zooey Deschanel ("You question whether they're ready for each other.") and Johnson wondering if the time is right. Concluded the latter: "I think they're very good together, but I personally don't know if they're ready to be in a long-term relationship."

Matt Richenthal is the Editor in Chief of TV Fanatic. Follow him on Twitter and on Google+.

Tags: New Girl, Spoilers, PaleyFest
From Around the Web