Which shows/seasons are out on DVD or Blu-ray? What features are included with these box sets? When might we be giving away copies to a handful of lucky readers?
We'll be answering these questions and more each week in this space, as TV Fanatic is excited to present our first extended look at the latest DVD/Blu-ray releases, starting with a classic comedy and moving on to a beloved British drama...
----------------------------------------
30 Rock Season 7/The Final Season: It's hard to say goodbye to a show that was always smart, silly, profound and insane all at the same time. 30 Rock Season 7 hits stores today if you want to relive how the last episodes wrapped up the lives of Liz Lemon (Tina Fey, creative genius), Jack Donaghy (Alec Baldwin), Tracey Jordan (Tracy Morgan) and Jenna Maroney (Jane Krakowski). Release Date: April 30.
The best thing about the final season is that, like the entire series, it was never perfect. But the fact that it felt different than any other sitcom was part of its appeal. And that energy is evident in the final episodes when storylines were wrapped up (Kenneth gets to be the head of NBC?!) and the fictional show within the show, TGS, is cancelled.
But, as you'll see with these last episodes, there are gems even in the more mediocre stories and that makes 30 Rock a show worth watching. The final season's DVD is a worthy addition to any collection.
Bonus Features: Audio Commentary by Fey, Krakowski and Writer/Producer Tracey Wigfield; Deleted Scenes; "Donaghy Files" Animated Webisodes; and a Season Finale Retrospective.
Rating: 5/5.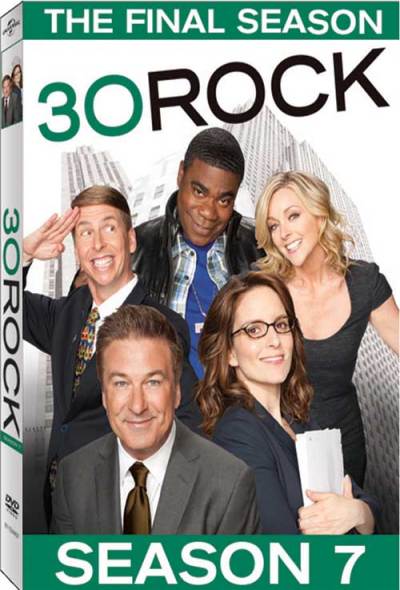 As for other titles that may be of interest:

Merlin Season 5: It's the final season of the popular BBC series but definitely worth checking out to see how the adventure wraps up. (Available now.)

The Blue Planet: Still need your Earth Day fix? The just released Blu-ray on the natural history of our world's oceans is spectacular. (Available now.)

And the Classic TV DVD/Blu-ray pick of the week?

China Beach: The Complete Series: Some of the best TV drama came out of the late 80s and one of my faves was China Beach. Starring Dana Delaney and Marg Helgenberger, the series may have been war-based, but it still holds up as one of the best character dramas out there. The complete DVD set of the entire series is available now from Time/Life. 

Which DVD/Blu-ray titles are you going to add to your collection?

Jim Halterman is the West Coast Editor of TV Fanatic and the owner of JimHalterman.com. Follow him on Twitter.

Tags: 30 Rock, DVD News