"Disarmament" took on a whole new meaning this week, as Gloria was caught completely off guard by the new man in town.
That man just so happened to be Patrick "Pat" Clarke, the son of General and Jackie Clarke. Nobody on either side of the camps has any idea who they're dealing with at this point, but I'm guessing it's going to be a pretty big deal when the parties figure out how entangled their web just became.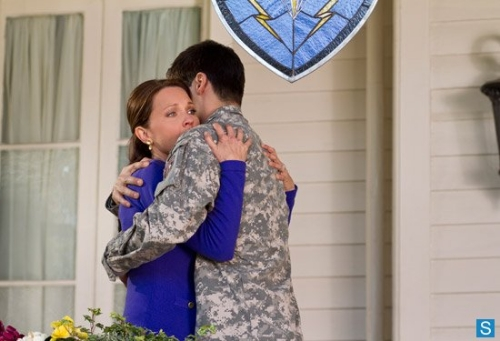 Brant Daugherty is no stranger to being the mysterious, sexy guy on television, having graced both Pretty Little Liars and Days of Our Lives as just that type  in the past couple of years. He made a hell of a debut tonight, immediately fixating on Gloria and winning a piece of her heart that is still bruised by her divorce from Hector.
His reunion with Jackie was bittersweet, as he shared that he and Kevin had changed their plans for him to attend ranger school to get real field combat experience instead. By the end of the episode, we learned he was being deployed to fill in for the injured officer of the 32nd Division the very next day.
You can't say Pat didn't make quite an impression while he was at Fort Marshall. Barely seeing Jackie, he had time to sweep Gloria off her feet and spend the night with her. Considering the very tight rope Hector is walking on in Afghanistan - when they were mildly attacked as they are in their new location every day, he grabbed for the nearest machine gun and returned fire, ruining the first hot meal the Division had as a gift from Frank - I think we're going to see some real emotional play between Pat and Hector when they discover they share an affinity for the same woman. I can't wait.
I also can't wait for Jackie to find out who Gloria was dating, especially after she gave her advice to give in to it! While there's no doubt Jackie likes Gloria... as a potential girlfriend for her son? Not a chance. Their friendship will be tested, but I think Jackie will come around in the end, much like she did with Claudia Joy when they first met. Icy glares gave way to warm embraces. Jackie is just very territorial.
Roland has apparently left, with absolutely no fanfare whatsoever, to do his study at Johns Hopkins, leaving the kids in the care of Joan. David and his new friends have already proven to be a mischievous bunch, and there's nothing that's going to stop them now. They're kids. That's what they do. Joan's first attempt at single parenting left her thinking other mothers without duties should pick up the slack. Snap those fingers and say "on no she didn't" because she called Maggie and Latasha "you people." Yikes!
I absolutely LOVED the scene in Joan's office when Latasha reminded Joan about her Colonel Joan website and how she used to care about the plight of the military families. Check out these Army Wives quotes:
Latasha: So I was wondering, where did that woman go?
Joan: Excuse me?
Latasha: The Colonel Joan I knew understood the pressures military families are under. She would never make a mother feel small because her boy got into a little trouble.
Joan: A little trouble?
Latasha: I don't make light of what our boys did, and they deserved to be punished and they are being punished. But they're boys and they're not going to act right all the time. | permalink

Latasha: Okay then. That's all I got. No it ain't. Sista to sista, we both know what it's like to be told we're not good enough to be around somebody. I just never thought you'd pull that same number on an Army family. Now I'm done. | permalink
I'm enjoying Latasha and Maggie more and more each week, but Latasha really held her own against Joan and that earned my respect. She was right about everything she said and Joan needed to hear it. Maggie also needed to hear that her muffin making skills could use some work, and she didn't let that thought slip quietly into the night either. I never imagined I'd be a big fan of Ashanti, but I was dead wrong. She brings so much heart to each scene she is in and right now she's stealing the show.

Maggie and Eddie are a hot mess. Even after they got out of the motel they're still at each others throats about their kids and I truly think it's time for some counseling. My son, my mother, your daughter, my father...those are not the words that come from a family that's going to work and if somebody doesn't step in soon, I fear for their future. It's too bad Roland left because he would have spotted their problems and been able to straighten them out. Hell, even last year's Charlie would be a benefit in dealing with the kids at this point. You don't know what you got till it's gone!

Denise and Frank were forced to spend another anniversary apart, but Frank sent her a huge bouquet of flowers and did everything he could to show her how much he loved her. As someone said on Twitter, he sure has come a long way from the guy who demanded she give up her motorcycle. Amen to that. I didn't think it was too out of the ordinary for Michael to ask Denise to step in for Jackie for a last minute event like he did, but when Denise got to the house, he had prepared a romantic dinner for she and Frank, with Frank at a laptop on the dining room table.

There are so many ways people can share love and stay in love. All it takes is a little imagination. With so many of the characters in love and deployed this season, I hope we get to see more of that. I like the Skyping and video chatting that has become routine for the couples on the show. It's a modern war with modern communication. It's not always available, but when it is, they make the most of it.

What did you think of tonight's episode? Is the bigger picture of Army Wives Season 7 coming into focus yet?

Carissa Pavlica is the managing editor and staff writer for TV Fanatic. Follow her on Twitter and on Google+.

Tags: Army Wives, Reviews