Most of the time flattery can get you pretty far; that is, unless you take it to a creepy/obsessive level, as evidenced on this week's Modern Family. "
Flip Flop" showcased the underused Haley Dunphy putting her skills to work to help reel in a prospective buyer for the flipped house.
That's right, Cam and Claire's project is finally finished!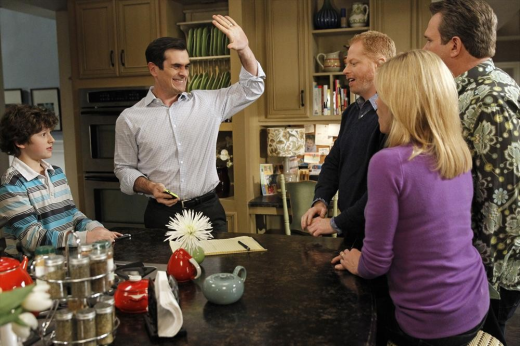 The completed product, while well done, was kind of lost in this tanked economy. In the face of a frustrating market Phil tried to keep everyone positive, as he always does, and Mitchell bit his tongue to keep from screaming "I told you so!" in Cam's face.

Mitchell wouldn't be satisfied without saying anything so he slipped in a good throwback reference to Gosford Park. More people probably would've gotten the joke had he'd gone with Downton Abbey, but you have to respect the writers for trying to vary things up.

Leave it to the ditzy, yet sometimes intelligent Dunphy children to think of a solution. Luke's friend Zach (Anders Holm from Workaholics and lately The Mindy Project) was looking for a house and was actually a software entrepreneur who volunteers at Luke's school. Before they could ask for her help, Haley had Zach completely stalked out on social media and a new crush had blossomed. Oh, he likes girls with black tights? Let me just go slip these on. I think Haley could've sold it too if they hadn't all have gotten so over-eager. 

I hate to place the blame on one person, but ultimately Cam set off those dominoes. Once he mentioned Otis it was all downhill from there. An unexpected visit from Gil and some improvisation threw things back on track. What was up with Mitchell's horrible Real Housewives of Atlanta accent when he was like "Oh dis doggie door?" I was waiting for him to bust out some "Gone With the Wind fabulous" and "twirl twirl twirl!" 

In the other plot-line of the night, Benjamin Bratt was back as Javier, Manny's dad. Instead of his usually lackey slutty female companions, he brought home guest star Paget Brewster, who played a brilliant art curator from Christie's. You just know that she and Manny were two peas in a pod right from the start. Not even Jay's words could soothe Gloria's seething jealousy over the woman who might affect her bond with Manny:

You and Manny have the closest relationship I've ever seen. Hell, he may never form a healthy attachment with a woman after you! | permalink

It's funny cause it's true. In the end, it was the backhanded flattery from Trish that eased Gloria's jealousy. How could Trish marry Javier knowing she'd be compared to Gloria for the rest of her life? In an amazing monologue tinged with insecurity, Trish rattled off what we're basically all thinking about Sofia Vergara's unattainable and unfair levels of perfection. Spot on.

What did you all think of this week's Modern Family? I thought it was an improvement from last week's.

Leigh Raines is a TV Fanatic Staff Writer. Follow her on Twitter.

Tags: Modern Family, Reviews