There was some mixed sentiment regarding the ending of last week's Nashville, as Lamar's fate hung in the balance. Well, like it or not, let it be known that it takes more than two consecutive heart attacks and some hemorrhaging to take down a man like Lamar Wyatt!
In "My Heart Would Know" Lamar's hospital stay provided material for a bunch of intersecting storylines. It also provided fodder for my two favorite scenes of the night. 
Family emergencies and brushes with death have a way of making people own up to otherwise unexpressed feelings. We saw a ton of that tonight, along with certain people stepping up in unexpected ways.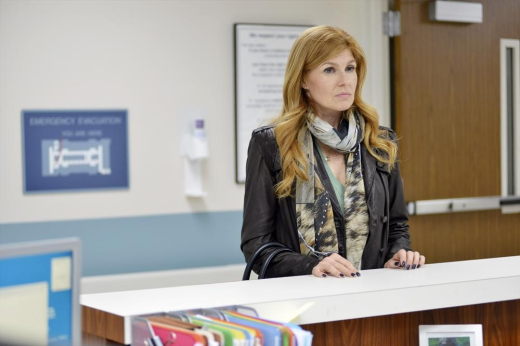 Despite their years of feuding, Rayna would never leave Lamar in Nashville to fly back to a show. She's a professional, but she's also just a good human being with priorities. Family is family. And I was so glad that Deacon told Juliette where to shove it when she said that Rayna wasn't his family. Those two have been to hell and back in their relationship and that scene when Deacon showed up at the hospital to wake Rayna didn't even need dialogue to have an emotional impact on me.

My other favorite scene in the hospital was Rayna speaking to Lamar when she thought he was unconscious. She didn't know why he resented her and fought with her for all of these years. She knew she took after her mother and went for a life he didn't approve of, but she never really understood it. It took Lamar's visceral reaction to seeing Watty for Rayna to finally know the truth:

Watty was having an affair with Rayna's mom and the night she died, she had her bags packed to run off with him. Now it all makes sense. 

I just wanted to say that I wish you had told me about all this, instead of you being so angry with me all of these years. Cause that's what it felt like, it just felt like you were mad at me all the time and I realized that you were probably just mad at mom. And I don't blame you for that, I just feel like we missed our life together… | permalink

That sentence "I just feel like we missed our life together," wow. Excuse me, I need a tissue! The question now is: Will Lamar's brush with death and Rayna's knowledge of the truth change their relationship? I feel like somebody has to continue to be the villain and Lamar does play it well. However, I believe the mark of a good character is when you can love them one week and hate them the next. Kinda how I feel about Juliette!

There's no doubt that Hayden Panettiere has done an awesome job of bringing Juliette to life. These past few months I finally felt like I understood Juliette more and saw a more benevolent side of her. Then she and her mom butt heads of the very shady Dante and she's back to her old ways. She doesn't understand family emergencies in the way most other people would. She's always had a horrible relationship with the only family she has, her mother Jolene.

Juliette took Rayna's absence as an opportunity to throw in more songs and plug her new album. Now she's hired Dante as her manager? I absolutely don't trust him. Man, he even had me feeling bad for Avery this week! When does anyone ever feel bad for Avery? Let the record show that he did knock several times!

As for Avery's ex Scarlett, I'm glad that Gunnar is finally feeling a bit like his old self and was able to support her in signing her deal. I'm just a little worried about how he came to feel like his old self. That close call with the train was pretty scary! Maybe Will isn't the best influence after all. At least I enjoyed his performance on stage with Scarlett.

What did you all think of this week's episode of Nashville? What will Teddy do with the knowledge that Peggy was the leak to the tabloids? Will Lamar change after his heart attacks? Is Dante trustworthy? It looks like we're in for a bit of a hiatus, so hit the comments!

Leigh Raines is a TV Fanatic Staff Writer. Follow her on Twitter.

Tags: Reviews, Nashville