With Amy still visiting school in New York, Ricky was left to handle things on his own when there was an incident at John's day care.
In "Fraid So," The Secret Life of the American Teenager writers told us a bunch of important facts, including the not always known reality that toddlers bite. Really!
John's biting incident led to Ricky having to take a full day off of school and work. He's always been Mr. Mom but as Ricky himself said, it's been a long time since he's done a full day and night with a little kid. This gave Ricky a lot of time to think about what life might be like if Amy decides to go to New York.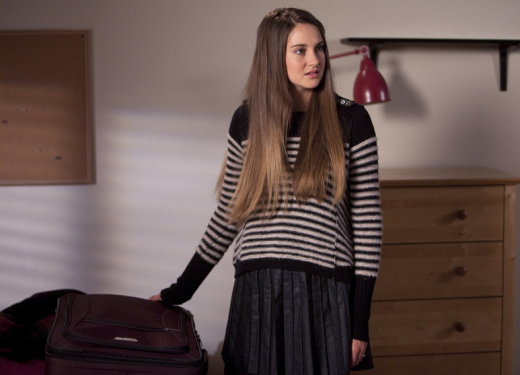 Obviously, it's no secret that things have been really tense between Amy and Ricky. Just last week he almost demanded his mom's wedding ring back from Amy. Their two-minute interaction on the phone was so clipped and awkward, it was painful to watch; especially if you've been a longtime Ricky and Amy fan. Ricky definitely told Amy twice that John was provoked by the other kid.

Amy took the assumption upon herself to think that John was acting out because she went to New York. Ricky changed his tune in the middle of last week and decided to be supportive. Clearly, Amy is feeling guilt over the whole situation anyway. It didn't help anybody that Ben immaturely texted people that he was on Amy and Omar's fight. Everyone's just at each other's throat and nobody seems to know what they want. It's frustrating to watch.

Something I'm finding really frustrating is how the writers are choosing to spend this remaining season. A lot of time is being spent on Kathy, Ethan and all of the parents. While some of the parents have always been integral to the show, I want to see more screen time for Ricky, Amy, Ben, Adrian and Grace. Grace has been MIA and Ben had a one minute blip about how loud the dorm was. Completely irrelevant.

The fans deserve to see where these characters are going to go and how the show is going to wrap up! It would be one thing to spend time on newer characters if the show was continuing and people we're being replaced, but we're going out with the same characters we met in season one. I will at least say I'm happy to see George doing well and interacting with all of the teens. George became one of my favorite characters a few seasons ago.

George, Tom and Adrian were the ones who were able to get through to Jack. Jack definitely needed therapy and I'm glad he was finally convinced. 

Everyone is afraid of something. You can either hide or face your fears, what's it gonna be. | permalink

Now that Jack is on a better path, I hope we can see more from the other main characters. What do you think Amy meant when she said she was afraid to lose Ricky? Did she mean she might decide to stay in New York? What do you think will happen for our main couple?

Leigh Raines is a TV Fanatic Staff Writer. Follow her on Twitter.

Tags: The Secret Life of the American Teenager, Reviews