Is it me or does The Secret Life of the American Teenager always spend an entire episode like it's one big game of telephone? How long have we all known that Amy and Ricky weren't married?
In "Untying the Knot" - slowly but surely - Ricky's and Amy's parents finally all found out the secret too.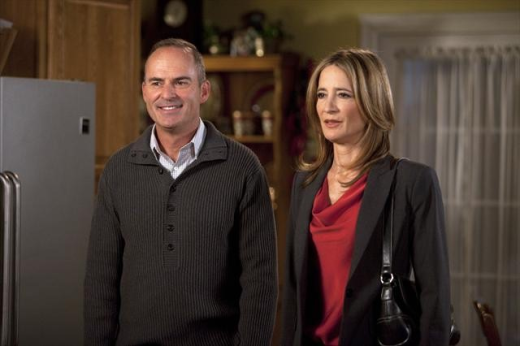 George is foaming at the mouth for Amy and Ricky to make this thing legal. He has been ever since John was born. But George also kept their secret for them from the rest of the parents. Now that Anne and George are at odds, he used that secret as his leverage.

George is so full of secrets he could be on one of the cast of Real Housewives! He knew Robbie's true paternity this whole time. Anne was so pissed off that she cancelled Amy and Ricky's wedding. I know that Anne was throwing Amy and Ricky a wedding, but she was doing it in George's backyard and planning it with Nora and Margaret. So why was it up to her to call it off? There are other people involved here! There's also Amy and Ricky to think about...you know, the bride and the groom.

When it comes to them, maybe Anne was right to call of the wedding. She may have no idea but Amy and Ricky seem to both be doubting this whole wedding. Every week it seems to alternate which one of them really wants the wedding. Ricky thinks that Amy always gets what she wants. There's also a handful of people who are rooting on this couple to fail.

It seems like Amy and Ricky's only friend who does want them to go through with the wedding is Grace. Grace even offered to get Kathleen involved and help get the nuptials back on track! Although maybe Grace just needs a break from Jack and all of his "miracle healing" talk. Sure, Jack definitely does need to see a therapist. He went through something really traumatic and he doesn't fully remember it either. But Grace shouldn't forget her own crazy days when she thought that her premarital sex caused her dad's plane to crash. Either way, at least in terms of Ricky and Amy, Grace is being a good friend to them.

Adrian should be more concerned with her own engagement than Ricky's. But that's just the way Adrian's always been. Did she let Clementine in on her suspicions to help her out because she knows Clementine loves Ricky? Last week Ben told Chloe that Ricky and Amy weren't really married. Truth be told, Chloe has bigger things to care about. Speaking of Chloe, I'm glad she and Kathy are becoming friends. Kathy's old friends are ditching her because she's too rich for them?

Seriously, writers, we know the show is ending - but you could've come up with a better excuse!

Chloe: Do you want to be friends with a former hooker?

Kathy: Who am I to judge? I just had a baby. Sure! | permalink

I actually like Chloe's and Kathy's characters. How about you? What do you think of the latest episode of The Secret Life of the American Teenager?

Leigh Raines is a TV Fanatic Staff Writer. Follow her on Twitter.

Tags: The Secret Life of the American Teenager, Reviews
Want more The Secret Life of the American Teenager?
Sign up for our daily newsletter and receive the latest tv news delivered to your inbox for free!
More From TV Fanatic
It's select ensemble vs. elite in a dance rematch this week on Dance Moms. Who came home with the victory? Read on to find out!
On tonight's Tyrant, Jamal and the Sheik meet for negotiations. Will they come to an agreement?
It's time to reunite on The Real Housewives of New York City. Read all about this special episode now.
Who can be trusted? On tonight's Covert Affairs, it's clear that it's important to trust others, but also a huge gamble.
---