Vampire Diaries Exclusive: Claire Holt on The Originals, The Cure and Getting It on With Matt
by Matt Richenthal at . Comments
Will she or won't she?
That's the question that will be facing Rebekah on Thursday's special episode of The Vampire Diaries, as Elijah explains to her why Klaus has headed to New Orleans and this Original beauty must decide if she'll join him there or not.
"Rebekah has such a strong sense of loyalty," Claire Holt told me over the phone. "She receives information about Klaus and his quest and she wants to go and help… but she feels betrayed."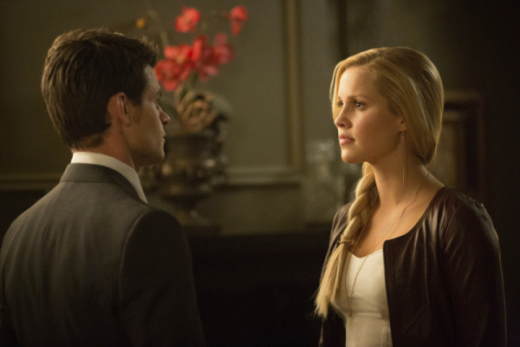 And for good reason.

Klaus really laid into his sister last week, effectively ruining her prom and mocking her yearning for the cure. Does that desire still exist? Oh yes.

"We've seen Rebekah throughout her time in Mystic Falls really craving true love," Holt said. "She's seeking loyalty and she clearly can't get it from her family. So she's looking for it somewhere else and thinks that if she's human, she'll find it."

After all, as The Originals can attest to, "being immortal is pretty lonely," Holt said.

Might Rebekah find what she's searching for in a certain fellow senior? One who often wears a varsity jacket and works tirelessly at The Grill?

"Matt realizes there are some parts to Rebekah that are soft and good-natured and loving," Holt teases. "It's going to be hard for him to forgive her, but she won't stop trying. I think fans will really like where their relationship goes."

And where will Rebekah be going? While the actress refused to divulge her character's future, she has been cast in The Originals, of course, assuming The CW orders this pilot to series.

"I'd like her to go to New Orleans," Holt admitted. "But I'd also like her to get it on with Matt."

Fortunately, if Matt is left behind in Mystic Falls - destined to flip burgers and make drinks for at least another year - Holt will still end up across from two actors she adores.

"Daniel Gillies is the most difficult person to shoot scenes with," she said. "I can never keep a straight face. He can make me laugh at anything and he's just relentless."

Both Gillies and Joseph Morgan are "such great, kind, wonderful, generous human beings," Holt said. "And they are also gorgeous. It's never a hard day at the office working with them and I feel so blessed that I get to continue on this journey with those two."

The Vampire Diaries airs "The Originals" tomorrow night at 8/7c. And return to TV Fanatic tomorrow morning for our exclusive interview with Joseph Morgan!

Matt Richenthal is the Editor in Chief of TV Fanatic. Follow him on Twitter and on Google+.

Tags: The Vampire Diaries, Exclusives, Interviews, Claire Holt, The Originals