It all comes down to this! Tonight, American Idol finalists Candice Glover and Kree Harrison will find out which of them will be the season 12 winner!
And we're live-blogging it for you here at TV Fanatic! 
It's sure to be a star-studded, jam-packed night leading up to the big reveal, so let's get started now!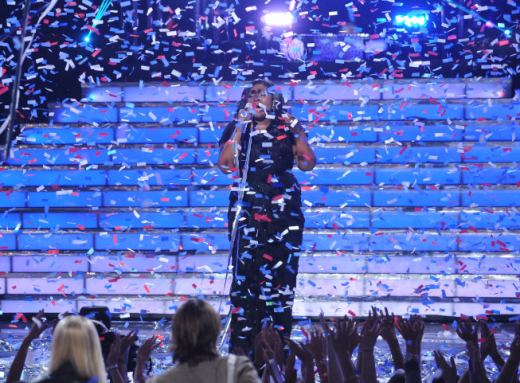 The season 12 contenders have returned for tonight's finale, which is also a preview of the American Idol summer tour. In what has become custom for the first number of the finale, they're dressed in all white. They're also not all singing "Glad You Came." Oh look! A Paul Jolley sighting! Lazaro Arbos is still a sweaty mess.

The Band Perry, whose song Kree Harrison covered last week, is in the arena singing their song "Done." Janelle Arthur, season 12's other country girl, joins them on the stage. She's so electric I have chills. Put this girl in front of a band and let her do some country-rock. This is her wheelhouse. If she'd been able to give this type of performance all season, we might have a different Top 2 tonight, or at the very least a different Top 3. I wish we'd gotten to see Keith's face during the performance. I'm sure it was fantastic.

There's a really funny clip about how the guys were picked off one by one by the girls. The funniest is when Janelle pretends to change the notes on Lazaro's sheet music to explain away the fact that he botched so many numbers.  Jordin Sparks shows up to pretend to be the mastermind and what's most funny about the skit is when she says the guys made it easy for the girls to sabotage them because none of them play guitar. You can't have a WGWG as a winner if there are no WGWG's in the Top 10.

The guys get together to sing a medley that includes "Let's Hang On (To What We've Got)" and "Walk Like A Man." Of all of these guys, vocally I've missed Burnell Taylor the most, followed closely by Devin Velez. Paul Jolley tries too hard to connect with the camera and appears to botch his lyrics. The guys are joined on stage by Frankie Valli who sings "Can't Take My Eyes Off of You" and "Grease Is The Word." Keith is just rocking out at the judges table. To Frankie Valli. He's grooving. I love Keith Urban.

Finally, the moment we've all waited for! No, not the results. Mariah Carey takes the stage with Randy accompanying her on the bass. I'm about 98% certain that during her performance, the pyrotechnics went off and the Coca-Cola logo flashed behind her, but since this is a live-blog, I'm reluctant to rewind. But hey, you go, product placement! This is an incredibly strange mash-up featuring about 20 seconds worth of each of her hits, and I can't even be positive she's singing because of the sound-mixing and the reverb. Or she's actually just this good. Okay, we hit "We Belong Together" and I'm pretty sure she's singing this one at least.  And here comes "#Beautiful." We're supposed to say "hashtag" out loud, I think, which feels ridiculous. 

Here's a fun-fact that I have on good authority from someone actually inside the Nokia theater right now: Mariah's performance was pre-recorded. She didn't actually just perform. So now I'm back to thinking the entire thing was lip-synced or at the very least heavily edited so she'd sound great. I put neither past her when her Diva status is on the line.

Taking on "Next To Me," Amber Holcomb, steps back on the Idol stage. She's joined by Emeli Sande. Amber looks like she's having a lot more fun now that she doesn't have the pressure of trying to win on her shoulders. Keith is still just rocking out. He might need a neck brace at the end of the show. I am really loving Emeli Sande right now, so this might go down as my favorite pairing of the night. 

Kree and Candice got to give finale tickets to their mentors courtesy of Ford. And they got to give them brand new Fiestas. 

Psy, with his new song "Gentlemen," is here. There are so many William Hung jokes happening in my head right now. He's the most bizarre artist to break onto the scene since the now defunct LMFAO. He definitely knows how to work a crowd and a stage. That was a fun performance.

The second judge to sing tonight, also via pre-recorded and not at all live performance, Keith Urban sings his "Little Bit Of Everything." He's just so fun! This season has definitely made me a fan of his. He's just so down to earth and honest and real. And he's easy on the eyes, too, so there's that. That song was neat and fun. Definitely summery and perfect.

Candice Glover takes the stage to sing "Inseperable." She's joined by the amazing Jennifer Hudson. Part of me wonders if Candice is looking at her future when she looks a JHud. She's certainly just as vocally talented and my suspicion is that last weeks' number from West Side Story was a back-door audition for Broadway. Those two together. Wow. That was fantastic.

ADAM LAMBERT!!!! Yay! He's here singing "Titanium" with Angie Miller. They start the song with her behind the piano and slow it down and it's really great. The heavy down-beat rhythm in the David Guetta version almost hurts to listen to because of how powerful it is, so this is a really great change to the song. And also, Adam Lambert is back on the stage, so I love that. He introduces Jesse J. and takes off and then Angie's life is made when she gets to sing with her personal idol. They sing "Domino" which I'm incredibly ashamed to admit I thought was a Katy Perry song until just this moment. Oops? Angie gave up the chance to sing her original song again tonight to perform with Jesse J. So Jesse J. is going to fly Angie to the UK to sing it at one of her concerts. No big deal. (Very big deal!!!)

The contestants had a good time making fun of Randy and Nicki. Randy's phrases are his trademarks and his "in it to win it"'s feel cheap when he gives them to everyone. Nicki's hair, and generous posterior, are mocked quite well. 

Kree Harrison gets to perform with Keith Urban on guitar, Randy Jackson on bass, and Travis Barker on drums. They team up to sing Keith's "Where The Blacktop Ends." This performance is live and not pre-recorded. A song like this doesn't let Kree shine in the same way that Candice's duet with JHud did, but the point of tonight is showcasing and not competing, so it doesn't really matter. This was just straight energy and entertainment. 

Tonight is Randy Jackson's swan song, so the dogs have been called in to bid farewell to The Dawg. There is some great footage of Randy from way back when in this montage. It's hard to believe that it's been 12 years that he's been sitting behind that judges' table. It's actually kind of sad to think about him leaving. 

Live from New York, because she doesn't like to fly, Aretha Franklin tells Candice Glover that she's a winner even if she doesn't win. Oh, and so is Kree. The girls get to back her up on "Natural Woman," "I Never Loved A Man (The Way I Love You)," "Think," and, of course, "Respect." This is slightly less bizarre than when Celine Dion sang next to Holograph Elvis. I half expected Aretha to waltz out on stage to surprise the girls. Aretha is such an original diva that having a finale without her wouldn't be right, so the way they made this work was really cool.

America decided that Kree and Candice should both get Ford Escapes. Happy Thursday for them!

Oh, a Zoanette sighting! And the Turbanator! And a crying Matheus! It's the montage of all of those who are no longer here, set not unintentionally to Phil Phillip's "Gone." 

J.Lo and Pit Bull perform "Live It Up" and this performance seems to be live. She's singing new music that also happens to be a great dance anthem AND she's dancing her leotard off. This is high energy and high production value and in the Diva-showdown, J.Lo just put Mariah to shame.  

In the final duet of the night, Kree Harrison and Candice Glover sing "One Less Bell To Answer." I can't help but think of Kristin Chenoweth and Chris Colfer doing this on Glee, but this is really pretty and shows more versatility for these girls. Either one will make an excellent Idol. 

Edward Boddington hands off the official, certified Idol results to Ryan. Kieran dims the lights one last time for season 12.

Ryan wishes both girls good luck.

This year's winner is Candice Glover!!!

Candice wins! The Idol contestants rush the stage to congratulate her! What a great ride and a great year! After three years, she just proved that the third time really is the charm! Way to go, Candice!

She performs her single "I Am Beautiful" to close the show. 

What do you think, TV Fanatics? Did America choose the right Idol?

Miranda Wicker is a Staff Writer for TV Fanatic. Follow her on Twitter.

Tags: American Idol, Reviews