Beauty and the Beast Review: A Little Jab Will Do Ya
by Carissa Pavlica at .
Tonight is the night I'm going to alienate myself from the Beasties - because I found "Never Turn Back" to be the most underwhelming episode since we found ourselves fighting our way through the return of Vincent's past red-haired love interest.
There was one relatively (pun!) unique reveal in the finale and the rest was fairly straightforward.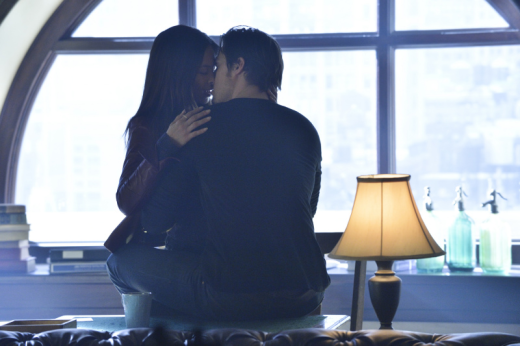 It turned out that Vincent didn't need to take more pills to be cured because the pill that Tyler synthesized using a combination of the ones left over from Cat's mom and information she stole from Muirfield created a perfect destruction tool against Vincent's animal DNA. He was being cured without his body ingesting further toxins.

That win was short lived as Tyler and Gabe needed Vincent's entire lymphatic system to create a pill to do something similar to save Gabe's life. But they needed his "beastie boy" and not the nearly cured man he was becoming, so they were up against a little wall either way.

We had Cat dreaming of a future in a small town in Colorado, as assumed persons, free from the beast and of Muirfield. Vincent fell into step with the entire idea and when he learned he could withdraw the effects of the cure and reignite the beast to save Cat, he chose to use his skill as a soldier to fight Gabe so he could keep his future in tact.

Earlier, Cat's father called her, which we have to assume was to share with her that he wasn't her father considering what was on his broken iPad - that a Muirfield man had reentered the country. He must have chosen to protect her and give up his coveted status as her father to do so, but that's just a guess, as he was run down in the street. Heather was the first person to find out Cat wasn't his daughter through a donated blood DNA match.

If this review is all over the place, it's because the finale was, too. It didn't flow like the great hours we've come to expect, and felt pieced together to try to get to a conclusion, but none of stories that were ended truly had a conclusion.

For instance, from the start, Gabe was having second thoughts about killing Vincent to save himself, but the scientist in Tyler convinced him it was the only chance he had. She not only got him killed, but herself as well. So many questions were left dangling with the Gabe situation. We did get to see an imagined baby beast locked in a lonely stone room, and learned he turned once when he didn't take his meds on time and killed his adoptive mother by accident.

Somehow Muirfield knew who Tyler was as she was the first they killed, and when they found Gabe, they shot him down, as well. Whether he's dead we'll find out next season. Who knows what his beastly DNA will allow him to survive. Cat gave up the normal for the beast and shot Vincent full of flu vaccine so he would be a match against Gabe, but their fight was fleeting before Muirfield before showed up and shot Gabe and captured Vincent. That's when the Muirfield fellow announced not to shoot Cat, because she's his daughter.

The best scene of the entire episode was when Tess rescued J.T. after Tyler handcuffed him to the radiator in the apartment. Their banter never fails to impress and their meeting will go down in history as one of the best examples of two best friends of lovers ever coming together as friends.

But, and this is just indicative of the many problems and drops with this finale, Tess' line "we might have another problem..." lead nowhere. Who writes like that? I mean, I guess I do, but I'm not a professional screenwriter with a team of pros sitting around me on the bed writing this review with a board in front of me tying this entire review together. Someone had to wonder where all the dangling scenes were going.

If they had been typical spectacular finale-type scenes, it would be understandable, but they felt sloppy and unplanned. It could be they felt written into a corner with two beasts and weren't sure where to go with Gabe. Perhaps as of the time they were writing they didn't think his character could be salvaged and just did the best they could to wrap things up.

Obviously, at the time a second season hadn't been green lighted and decisions had to be made on where the story would be left if it didn't continue. So, there was some mystery and the knowledge that Cat and Vincent had an undying love.

Now we can move forward to Beauty and the Beast Season 2 and I'm hoping a lot more hours like "Heart of Darkness" and a lot less like this finale. Let me know your thoughts on the finale. From the Twitter feed as it was going live, it looked like a lot of satisfied customers, so I'm expecting a bit of backtalk!

Carissa Pavlica is a staff writer for TV Fanatic. Follow her on Twitter and on Google+.

Tags: Beauty and the Beast, Reviews
From Around the Web