For those who doubted the chemistry between Robin and Barney, the How I Met Your Mother Season 8 finale presented a pretty strong case for why they are so good together.
Barney may have missed Robin's cry for help when she couldn't find her buried locket, but he more than made up for it on "Something New."
Reserving their memorable table by the window and producing a pair of the first cigars they ever smoked together showed just how into the relationship Barney is. Maybe you could chalk that up to Barney's amazing attention to detail. Scenes like the one where he gave Robin one last kiss as they left the apartment, however, did well to show the two are not just great friends - but very much in love with each other.
And how about the cameo from Ranjit? What a great touch that was.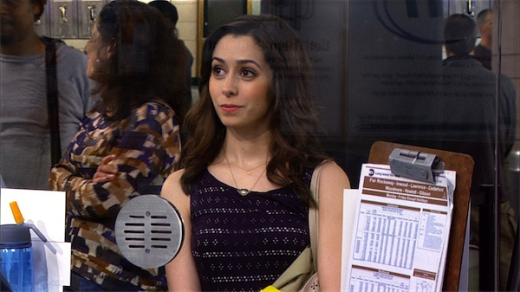 There has never been any real room to debate Marshall and Lily's feelings for one another, but the news of Marshall's appointment thrown up against Lily's dream job should prove to be one of the biggest tests of their relationship. Is it possible Marshall's brother has gotten bigger since last we saw him? Maybe it was just Marshall's thinner frame these days, but his bro looked ginormous.

Like Lily, I saw the crushed nuts prank coming all the way, but at the airport I really thought he was being nice and offering to help Marshall with his bag... silly me.

Back East, I thought Lily put together Ted's reason for moving to Chicago a little too quickly. Then I remembered how Lily has always had a nose for lies, a.k.a. "where's the poop?" Ted probably would have found the locket while packing up his apartment, but at least by telling him about it, Lily also got to tell him to be careful. Let's hope Ted can get that apartment back when he eventually decides to stay in Manhattan. I have always loved that place as well as the house in Westchester. 

Another thing I have always loved about the show is any scene where we get to see Robin drunk. She was absolutely hilarious in Lily's flashback, with her allusion to the gold watch scene from Pulp Fiction. 

Ted planning on leaving Sunday night from the wedding is a nice idea at heart. I get he doesn't want to be a downer and ruin Lily's "Christmas," but his not being there will be just as odd and disappointing for Barney and Robin. If leaving early is what it's going to take for him to finally meet the mother, though, than so be it. 

Seeing the mother's face has been such an anticipated moment, I almost didn't believe it was happening. I think one of the best aspects of the episode was that while we were finally deemed worthy as fans to gaze upon Ted's future wife, there still remained a number of unresolved issues at the end. I have been wondering what exactly was going to keep us all coming back next season, but now I absolutely can't wait. 

So was it as good as you had hoped? Was she what you expected? Let us know what you thought and have a legendary off season. 

Tags: How I Met Your Mother, Reviews