Modern Family Review: Sweet Little Lies
by Leigh Raines at .
Who remembers "Career Day" from grade school? Have you ever seen a more eagerly prepared dad than Phil Dunphy? 
We probably recall it as a day we didn't have to do any work and got to hear stories of exciting adults. Little did we know how stressful it might've been from the other side!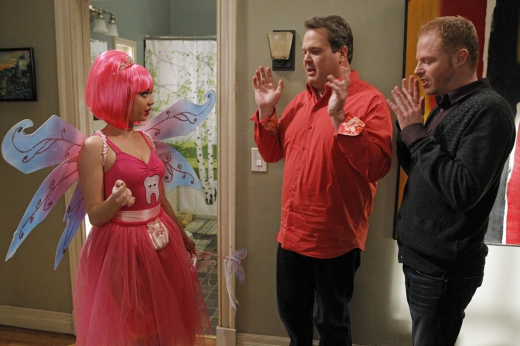 Phil's presentation probably would've gone much better if his kryptonite, nemesis Gil Thorpe, hadn't have shown up and stolen the show. Is it just me or does Gil steal every episode that he's in? When Gil Thorpe is in an episode, all of the energy gets sucked towards him. We haven't seen Modern Family in almost a month and Gil was even in the last episode, "Flip Flop!"

Poor Phil. He truly just wanted to make Luke happy and impress Luke's classmates. So who do you think performs worse under pressure: Claire or Phil? Claire at least knows how to shut a nosy little pest down. Props to Claire being able to think of answers on the fly, even if they were a little messy.

So was Gil even remotely genuine when offered Claire that job? He seemed so at the time, but that phone call with Phil in the car was pretty gross.

So Phil put his pride aside at told Claire to take the job. Thorpe was going to mess things up on his own anyway. Jay was bound to mess things up too if he took credit for Manny's story. I loved Jay's whole monologue when he had writer's block. Any writer can surely relate to the mind drifting, repeated sentences and random tangents. I also love any scene Stella the bulldog is in, obviously.

Despite the fact that Lily can be annoying, I did enjoy the whole tooth fairy storyline. I totally remember being a kid and being psyched when I lost a molar because it was worth more money...but never 100 dollars. I also dressed up as the tooth fairy once when I was babysitting my nieces but I definitely didn't look nearly as sexy as Haley! Haley's argument about Santa was brilliant improvising. Watching Cam and Mitchell arguing over how to deal with Lily is usually pretty entertaining.

Cam: Obviously the tooth fairy made a mistake.

Mitchell: Maybe it's cause the tooth fairy had a little too much chardonnay last night. | permalink

All in all, a pretty decent episode of Modern Family to usher in May Sweeps. What did you think of the latest installment? Hit the comments! 

Leigh Raines is a TV Fanatic Staff Writer. Follow her on Twitter.

Tags: Modern Family, Reviews
From Around the Web