Based on the way Dexter Season 7 concluded, Aimee Garcia has a warning for all fans of this Showtime hit: it's been opened.
Pandora's Box, that is, as the actress teased in our exclusive interview regarding what's to come this summer.
"Dexter is slowing falling down the rabbit hole," the actress told me over the phone, referencing how he's responsible for LaGuerta's death to close last season, even if Deb pulled the trigger. "She may have played political favorites, but LaGuerta was by no means a murderer. Dexter was a major catalyst for her killing, meaning it's the first time he's truly broken The Code."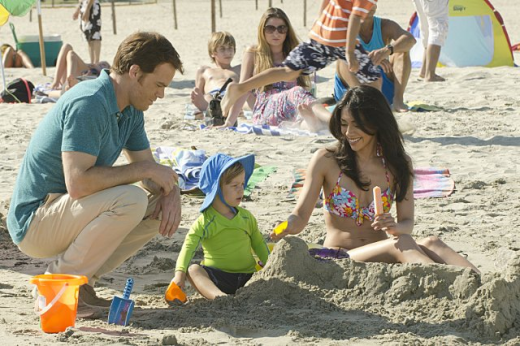 As has so often been the case on this series, Garcia says Dexter will be faced with a number of questions moving forward, many of them life-altering, some of them to be answered by a new character.

"Can you be a psychopath and a loving, normal human? That's something he'll explore with Dr. Vogel. What does it mean to be what Dexter is. And what is Dexter?!?"

And where does Jamie - the world's best nanny - fit into the equation?

"She takes care of his most prized possession," the actress said of Harrison. "Dexter trusts his son's life with this bikini-wearing Miami girl. He refers to her as family. I find her to be instrumental in what Dexter does, allowing him to go off and take care of the trash of society."

But might that change? Might Jamie learn of her employer's secret on this final season? Garcia would simply tease:

"The scripts have more curveballs than I've ever read… and we'll see another side of Jamie. Things progress. Things happen."

Dexter Season 8 kicks off on June 30. For more scoop, read our interview with Sean Patrick Flanery.

Matt Richenthal is the Editor in Chief of TV Fanatic. Follow him on Twitter and on Google+.

Tags: Dexter, Exclusives, Interviews