We're in the home stretch of our 15 Days of Arrested Development and this time we're catching up with Maeby. "Señoritis" shows us that the more things changed - like years - the more they've stayed the same for the younger, possibly related--but maybe not--member of the Bluth-Funke clan.
This is Maeby's Arrested Development.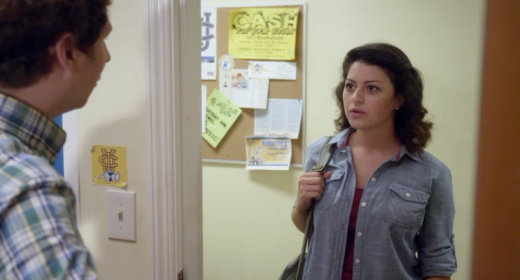 Maeby is in high school, which seems...weird? Since she was in high school during the last season and that was several years ago. She also looks waaaaay too old for high school, and also maybe a little bit like she's not that into this season of the show. I do love the pregnant teenage girl in her class being followed around by a camera crew though. Maybe she was in a Girls With Low Self Esteem video.

Even though she must have been in school for the past nine years she's failing math and needs a tutor. SURPRISE! It's George Michael. Awkward awkward awkward etc. 

In the aftermath of the Queen Mary Incident, Maeby is still trying to get her parent's attention. George Michael suggests she graduate high school, so she intentionally fails high school, only to discover Lindsay and Tobias haven't noticed that either. Since she's still working at the movie studio she runs off to India to film a movie only to run right into everyone else's plot lines. It turns out SHE was the shaman who Lindsay spoke to, which explains the crazy make-up.

Once the timeline jumps ahead, we learn that Maeby has enrolled in a new high school. Ok, so she's 18 or 19 now. I can see this working.

Five years later? Maybe, Maeby, but probably not.

The family spends Thanksgiving trying to watch Babies Having Babies on TV, which why that camera crew was doing in the opening scenes, but then Lindsay runs off with Marky, Tobias runs off with DeBrie, and Maeby gets fired from the studio.

Suddenly high school doesn't look so bad, even at 23.

Now that we're 12 episodes into the season, the most interesting part of each one is seeing the puzzle pieces fall into place. For example, the check Lindsay stole that says "From Gangie 4: Facelift" was a royalty check from Maeby's movie and not actually from Gangie for plastic surgery. I admire these details, even as I wish the family would spend some time together.

Maeby is feeling pretty badly about her Groundhog Day senior year, so when George Michael mentions his privacy software she jumps on the chance to go into business with him. She makes sure to burn as many bridges as possible along the way, as well as accidentally becoming her mother's pimp. I appreciate her entrepreneurial spirit. 

The best moment of the whole episode is when Maeby mentions Lucille 2 to George Michael and he doesn't know who she is. I have to do a full rundown of every episode ever in my brain to believe it, but it makes a great trivia fact. 

The worse moment might be sad, fat Steve Holt. Poor Steve Holt.

George Michael seems a little overwhelmed by all this Fakeblock nonsense Maeby has put together. I suspect he might by fudging the truth a little bit about his super cool anti-social network software. Once he fires Maeby, I'm pretty sure I'm right.

Unfortunately for Maeby, her mom stops sleeping with that politician and she loses another income stream. Damn, it's hard out out here for a pimp.

It's also hard when she realizes her "undercover cop" boyfriend is really 17, so her plan to entrap him with sex has just made her a felon. Bad day for Maeby.

On the next Arrested Development, Lucille 2 is missing (oh no! I hope Liza's OK!) and Maeby gets arrested for that underage sex thing. Oops?

What did you think of "Senoritis?" Are you ready to pony up for Maeby's therapy? Be sure to check out our Arrested Development quotes page for more Bluth-y goodness and tune in over the weekend as we wind down the rest of Arrested Development season 4.

Suzanne Davis is a guest contributor for TV Fanatic. When she's not commanding her ginger army at Bebehblog, you can find her on Twitter.

Tags: Arrested Development, Reviews
Want more Arrested Development?
Sign up for our daily newsletter and receive the latest tv news delivered to your inbox for free!
More From TV Fanatic
This week on The Last Ship, Danny gets sick and the crew begins to panic. Is it the virus? Meanwhile, Rachel's vaccine trials continue to fail.
Who was able to successfully problem solve on The Rachael Ray Show this week? Find out now in our review of Food Network Star.
The Masons are reunited on Falling Skies Season 4 Episode 6. Will it be a happy or contentious reunion?
What took place on The Real Housewives of New Jersey Review this week? Read our rundown to find out!
---