Arrested Development Review: God Save The Queen B.
by Miranda Wicker at .
Is there any greater Arrested Development character than Lucille Bluth? Jessica Walter does an incredible job portraying the scheming, booze addled, snarky, hasn't-cried-in-60 years, loving mother.
As the driving force behind the wall, Lucille's arrested development - "Queen B." - goes far in pulling together many loose strings.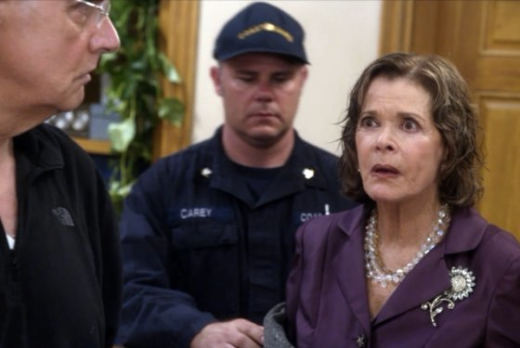 The episode picks up with Lucille commandeering the Queen Mary and the immediate aftermath. Of course Buster would be her alibi. Was there ever any doubt?

Tony Hale specializes in playing the co-dependent spineless man. Whether it be as Buster Bluth or Gary Walsh on Veep, he seems right at home yelling about a woman's lipstick. It's a gift, really. However, even the most weak-willed person will reach his breaking point and apparently it's around the seventh cigarette in a half hour point.

At first the cigarette thing was mildly amusing, but it certainly did not have legs enough to make the jump from Buster to the Jade Triad Gang. Do they not notice there is still a lot of smoke in the air? I don't know why but this really got under my skin.

The Jade Triad Gang in and of themselves though were quite entertaining. The entire noodle shank part was the definite highlight of the episode, especially with Lucille tearing open the spice packet and using it to blind her attacker. Perfect.

I've found that the further in the season we get, the less I care about the wall. Given that it is the main storyline, connecting the entire family, this is not a good thing.

We were back to George and Oscar talking about the wall, talking to Lucille, getting yelled at by Lucille, kissing Lucille, more wall talk, and seriously can Tobias just jump in here and save us from all this wall talk? Yes, he can!

As much as I lauded Tobias for growing as a person and somehow gaining the ability to step outside of himself and look at the big picture, he wasn't quite there when he had Lucille in therapy. There she was, almost becoming human, and what does he do?

Well he Funke-s it up. So close, yet so far away. 

As much as I loved the back and forth between the two Lucilles at Lucille 1's trial, it was really difficult to get completely invested in the scene due to the extremely distracting green screen work. I understand that they had schedules to work around but surely there could have been another way to make it work. Every single time they cut back to Lucille 2 sitting behind the oyster bar I just cringed and it wasn't due to her meticulously delivered barbs regarding being drunk at breakfast. 

Of course, without a doubt, the best part of "Queen B." was the appearance of Gene Parmesan. How is it that a single reaction to a man in a fake mustache can be the funniest thing in an entire half hour episode? Yet it most certainly is. Lucille's scream is just so ridiculous and so hysterical at the same time that you can't help but laugh. 

I'll admit that I wasn't laughing with her last interactions with George and Oscar. As conniving and at times cruel as Lucille can be, you have to feel badly for her being literally played by her husband and his twin brother. I don't blame her for asking for a "real" divorce but I certainly did side-eye her running to Oscar instead. Well until she discovered that he'd been schtupping Lucille 2 of course. 

Overall, this episode was a bit blah. Once again it seemed like its only purpose was to piece things together and tell as much of the story as possible in those 30 minutes. Even for a show that is very fast paced, it felt like "Queen B." was moving along at a breakneck speed.

What did you think of "Queen B."? Are you also tired of the wall? What are your thoughts about Arrested Development season 4 so far?

Amanda Denton is a guest contributor for TV Fanatic. She'll Tumblr for you, or you can find her talking television at Grizzly Bomb.

Miranda Wicker is a Staff Writer for TV Fanatic. Follow her on Twitter.

Tags: Arrested Development, Reviews
From Around the Web