Rookie Blue came back after a three-week hiatus to make us ponder if it's really time to walk away.
No, not from the show! But is it time that Sam and Andy truly move on from one another and put their relationship in the past? Ugh. I'm not sure I really want to think about that.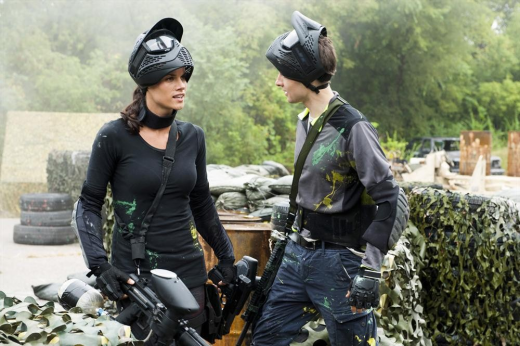 Obviously that's not where Andy's head was at the beginning of this episode. "Different, Not Better" opened with an awesome paintball battle where Gail captured the... polka dotted camel? Giraffe with two humps? I'm still confused.
But when Andy was crowing about how when she fights for something she wins, it wasn't just the audience making the connection to her relationship status. as Traci revealed in this Rookie Blue quote…
Nick: Do you think she's talking about paintball?
Traci: I think she's talking about Sam Swarek. | permalink
So when Andy and Sam's current flame Marlo were partnered together for the day, there was no way that wasn't going to be awkward. 

Trying to manage Wanda was a tough call. It can sometimes be hard to tell when a mentally ill person is managing and when they are about to fall over the edge. There was simply no way for Andy to know what Wanda was about to do.

As much as I didn't want to see Wanda get hurt, I didn't blame Marlo a bit when she shot her. The moment Wanda grabbed that knife and pointed it at that child there was no other choice. Even Andy could see that, once she had time to process what had happened. 

Yes, Marlo's a good person. Does that make her good for Sam? Is it time for Andy to leave the situation alone?

I don't think McSwarek fans should give up all hope. Now that Sam believes that Andy is truly moving on it may cause him to reevaluate what he really wants.  Either way, I don't think this is over by a long shot.

On other fronts, Dov got the shock of his life when his hookup from The Black Penny bathroom turned out to be a rookie cop... and Frank's goddaughter. Gulp.  

Chloe was quirky, bordering on annoying. I loved that Dov was honest but still polite. Only Dov Epstein could tell a girl she talks too much and not make it sound like a complete insult.

Chloe's into Dov. Will she be willing to keep things all business between them? Something tells me Chloe is going to cause Dov more than one awkward moment in the near future.

I was about as fed up with Chris talking about being a father as Ollie was. Just because you're a dad doesn't mean you can't play darts, or go out for a drink... or live! That is, unless Denise has him on a really tight leash. I had no doubt when they walked out of that tattoo parlor that Chris would be back to get Christian's name as a tattoo.

Nick and Gail may have had the strangest story, as they somehow coupled an abandoned urn with a cleanse and gave it a romantic turn. Who saw that coming?

So, is it time for Sam and Andy to officially walk away? Make your choice and let us know why in the comments below.

C. Orlando is a TV Fanatic Staff Writer. Follow her on Twitter.

Tags: Rookie Blue, Reviews