Burn Notice Review: Going All In
by Jim Garner at .
I'm not sure even Alice fell as far down the rabbit hole as Michael seems to be going in Strong's one man mission to bring down the group for which Burke and Sonya work.
But you have to hand it to Michael, it is certainly "All or Nothing" when it comes to this job.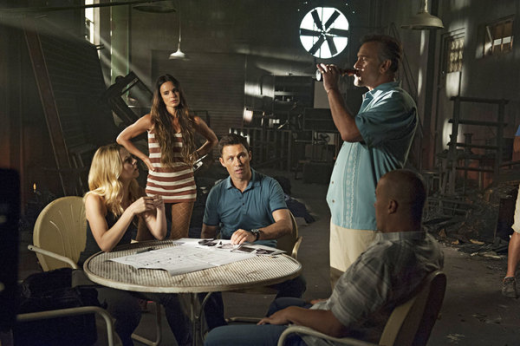 Let me say right off the bat that Michael and Fiona trying to pose as elite hackers was the worst cover they've ever attempted. To start with, the buzz-word-bingo that Fiona attempted sounded completely stupid to me and I'm not a hacker. Had I been Jack Frakes, I probably would have put a bullet in her right there. 

Besides that, at 45 and 43 years old respectively, Donovan and Anwar shouldn't be trying to pretend to be a hip-in-the-know 20-something (or 30-something) hackers. It would have worked a lot better if they had portrayed their cover as a sophisticated 40-something team. You know, expensive 18-year old single malt Scotch, fine furniture, expensive clothes. That I would have believed.  

Okay, horrible covers aside, the rest of the episode was great. Donovan deserves some sort of award for his emotional breakdown about how he has nothing left. In fact, I've watched the scene twice and I'm not sure that Michael was actually acting. 

That led to the biggest surprise of the evening, him and Sonya ending up in bed together. Granted, it wasn't really that big of surprise when he came in all wet and she was sitting on the bed working on the laptop in an over-sized shirt and shorts. That's pretty much "writing a romantic encounter 101."

This does lead to the question of how this is going to affect him and Fiona. Is there any way they can come back from her being with Carlos and him bedding down with Sonya? Let's not forget that Sonya is a bit of a viper and you don't want to turn your back on her.  

As adorable as she is, I don't trust her – and Michael shouldn't either!

Overall, it was a fine offering. While the crappy covers bugged me, the overall episode of Michael and Fiona working together was wonderful and the twist of Fiona leaving and Michael ending up with Sonya has me giving this episode 4.2 Mojitos for Sam Axe! 

What do you think? Can Michael and Fiona still mend fences or has that boat sailed? 

Jim G. is a TV Fanatic Staff Writer. Follow him on Twitter.

Tags: Burn Notice, Reviews
From Around the Web