Covert Affairs Review: Who Can Be Trusted?
by Carla Day at .
Covert Affairs continued to deliver on its new, serious tone with high emotions, action and suspense in "Into the White." 
With the gorgeous on-location shots in Colombia, this hour felt like a CIA spy thriller that would be shown on a movie screen rather than an episode of television. The characters' duplicity played out in a suspenseful and engaging manner.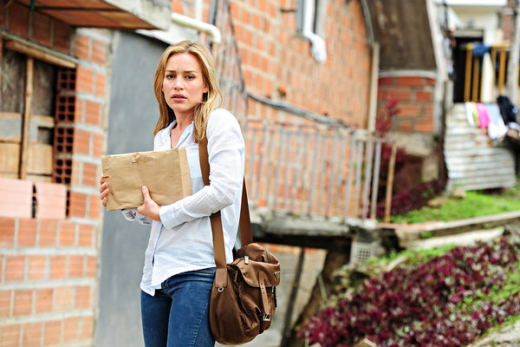 At the beginning of the season, Annie appeared to be working with Henry Wilcox to bring Arthur down. But that was a facade, as her loyalty to the Campbells was revealed in last Tuesday's "Dig for Fire" and solidified this week when Annie went to Colombia to get Arthur's son, Teo.

I'm not sure if Annie would have put herself on the line like she did for a CIA asset if he wasn't family. She was determined to bring Arthur's son home even though Teo's loyalty was in question. While I was confident that Teo would end up being on the right side of this situation, there was always a slight doubt especially given his motivation for going undercover in the ALC in the first place.

Teo is a complex man who was on a mission and pushed Annie's approaches away because he couldn't trust her. He didn't trust her, but in the end he implored her to trust him as he had a sniper rifle at the ready to kill someone. Annie correctly trusted her instincts and believed in Teo in that pivotal moment - and he was rewarded for that trust when Teo's target was shown wearing a suicide vest.

Despite that moment of trust between them, Teo took off on his own to go into deeper cover leaving Annie to meet up with Arthur alone. However, now that Teo has a direct, untraceable line to contact Annie (thanks to Auggie), it's likely he will give up his isolation and work with her based on this their newly formed connection. If the ALC is planning a larger attack, they could be the only ones able to prevent it.

While Annie and Teo's relationship strengthened from her visit, the opposite was true with Calder. He's not happy at all with Annie. She came into his country again and didn't reach out to him immediately, but only after she needed something from him. Calder comes across as a guy who will hold a grudge. Even though she helped prevent a terrorist attack in Colombia, he will focus on her secrecy and lack of trust in him first.

In a few weeks, Annie and Calder come face-to-face shooting at each other. Could Annie's hesitancy to trust him be the right decision? Or is it her disregard for him that leads them to that moment? I'm still hopeful that the scene isn't what it appears to be and they aren't shooting at each other, but if they are ... what leads to that moment?

Back in the U.S., Joan has stepped up her game. It was nice to see her outside of the office and getting into the action rather than just making the decisions. Last season, Joan and Annie had issues with each other, but that's all been put aside and now they are on the same team. While Annie put her life on the line for Arthur, Joan took the extraordinary action to clean Seth's house to protect her protege. 

A side benefit was that Joan found evidence that she used to convince one of the Senators to recuse herself. And with that move, Joan replaced Arthur as the head of the DPD. Congrats, Joan! It's a pleasant surprise to see her passion and ambition at the forefront. Though, Henry continued to insert himself into the situation with a note, "Well played, Joan" and a bottle of champagne. 

This new team of the Campbells, Annie and Auggie fighting the corrupt CIA system and Henry Wilcox has been a non-stop thrill ride. The loyalty they are showing to each other is commendable and joy to watch. The only thing that tops that is Annie and Auggie's romance. It's difficult at times, but their smiles when they are together are precious, "Can I have my t-shirt back now?"

Carla Day is a staff writer for TV Fanatic. Follow her on Twitter and on Google+.

Tags: Covert Affairs, Reviews
From Around the Web