Sasha Alexander said in a TV Fanatic exclusive earlier this summer that Rizzoli & Isles was going to give us some really strong mysteries on Season 4.
And "But I Am a Good Girl" definitely kept me guessing until almost the end.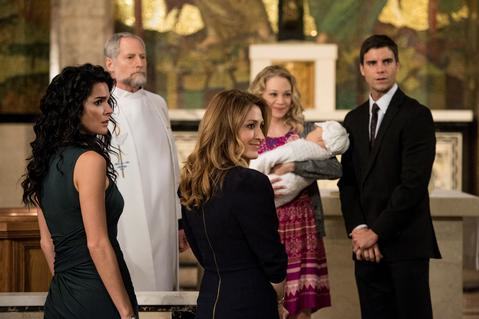 The murder of Isabelle Valdez was certainly dark. The 18-year old was four weeks pregnant and strangled to death in a church while lighting a candle and praying for help.  
Between her gang tattoo, her mother's immigration status and the number of suspects at the church, it took until the last 10 minutes of the show to figure out who the killer was. But once Samuel was dragged in for questioning, I knew it was his father.
How sad that instead of fighting to help his son and Isabelle break free from the gang, he chose to kill her? Thus taking Bianca's only daughter from her and robbing them both of knowing their grandchild? Killing a pregnant woman in a church with a rosary must be the true meaning of sacrilege. 
Thankfully we had our lighter moments, like the Rizzoli family christening for little TJ. As Jane described it to Korsak in this Rizzoli & Isles quote…
Korsak: How was the christening?
Jane: Think of your worst family holiday and multiply it by 10. | permalink
Yeah, it was pretty bad. Even if they hadn't found a dead body in the baptismal font - and leave it to Maura to sniff it out - they had Lydia and Tommy bickering in church and Lydia outing her affair with Rizzoli senior in front of the family priest.  Oh, and did I forget to mention it was the same priest that Tommy ran over in a crosswalk and broke both his legs?

The Rizzolis are a complicated bunch... but no one can say they don't love fiercely. Jane and Frankie would do anything to help their mom or TJ,or Tommy, even when they'd like to beat the latter senseless.

Tommy is such a screw up. How could he forget to file the papers granting him custody to his son? Of course Lydia did believe that the African tribal mask was a developmental tool for children. The two of them just might be perfect together.

The only one who needs some love in his life is Frankie. I know he was upset over the budget cuts and having to be a floating detective but I thought that was a cool compromise. He'll get lots of experience in different areas and that can't be a bad thing.

Then again, he might also end up back in uniform... and so might Jane and the rest of her team. Now that could be fun.

Once again, Rizzoli & Isles blended a dark mystery with lighter family moments and ended up with great drama to fill our summer.

C. Orlando is a TV Fanatic Staff Writer. Follow her on Twitter.

Tags: Rizzoli & Isles, Reviews