We're back with more Suits scoop from our visit to this show's set in Toronto last month.
Having already chatted with Sarah Rafferty regarding the possibility of a British Donna, and Gina Toress on the Jessica vs. Harvey conflict to come, we're now sitting down with Meghan Markle and Rick Hoffman to discuss love, loyalty and what fans can expect on Suits Season 3.
-------------------------------------------
"Gosh, you guys are going to love this whole season."
Markle and Hoffman have high hopes for what's ahead, as they revealed during my set visit interview last month.
With Mike and Rachel finally together and all the changes taking place at Pearson as a result of the merger, Markle's Rachel and Hoffman's Louis are both in for some big changes and new challenges.
After that big scene between Mike and Rachel on the Suits Season 2 finale, their relationship will become one of many relationships explored in the upcoming season, as Markle teased: "You sort of see the cat and mouse game come to an end, but also [watch them] try to figure out how they can navigate this relationship secretly and in the firm."
And, trust me Suitors, their relationship gets real, as Markle gave us a look at what's on tap: "He meets [Rachel's] parents. My dad's back. He meets my mom. We get to see how that goes."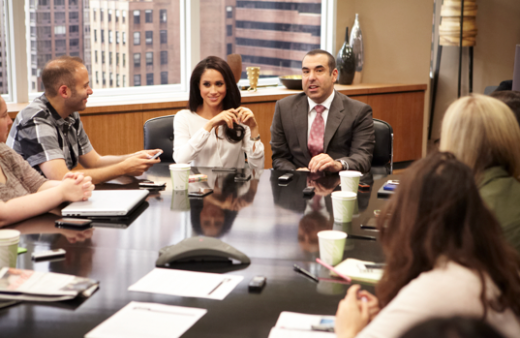 Yet just as they begin to delve into the budding romance, the other relationships surrounding both Markle and Hoffman's characters will enter the fray.

"You would think like you hit a dead end with a certain relationship and... then they [the writers] take it into a different direction," Hoffman said on the subject, adding that the stakes are definitely raised this summer.

Meaning what, exactly? Both Markle and Hoffman think the season rides on the theme of loyalty. Hoffman teases that "this [season] is more of a personal [journey], like everybody's personal battle" and is about "how they're challenged with who their allegiance is with."

Elsewhere, did you think you'd seen the last of fellow mudding enthusiast, Nigel? Think again. After Louis named Nigel on the efficiency list - effectively sentencing him to mudding alone for the rest of his life - look for that bromance (gone sour?) to enter the fray in a way you won't see coming.

Stay tuned to TV Fanatic for more from this dynamic duo about what to expect from Suits Season 3. And head back here immediately after the premiere for a detailed dissection of their newest installment!

C. Charles is a TV Fanatic Staff Writer. Follow her on Twitter.

Tags: Interviews, Suits, Set Visits, Spoilers