If you haven't noticed (and how could you not?!), the Fall TV Season is off and running, so my Notebook is bursting at the seams with lots of showrunner chats, as these producers talked to me about casting James Spader and Megan Boone in The Blacklist, along with the juicy drama on tap for this Sunday's premieres of The Good Wife and Revenge!
Let's dive right in, shall we?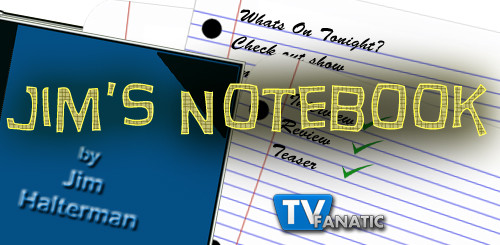 THE BLACKLIST: You probably saw my Megan Boone interview earlier today for tonight's premiere of the NBC thriller, but I also was able to spoke with Executive Producers John Eisendrath (who - TRIVIA ALERT - I worked with on the original Beverly Hills 90210) and Creator Jon Bokenkamp about casting the two main roles that Boone and Spader inhabit so well.
"Casting pilots is crazy and everybody is scrambling at the same time," Eisendrath said. "[Spader] actually signed on, I think, three or four days before filming started. So, we were very close to not being able to push in the pilot and not getting it done, and he signed on very late."
All that said, the EPs agree that they can't see anyone else in the role and, having seen the pilot, I have to agree with them. "Spader just has a very strange sense of humor and a presence that, frankly, wasn't in the script that has started to inform who the character is," Bokenkamp explained.
Bokenkamp said Boone's Elizabeth Keen was a different kind of challenge to cast: "I think it was tough to cast in that we didn't want somebody who was too perfect, somebody who had vulnerabilities. I think Megan portrays that in a really realistic and sort of relatable way, and I think that's what's interesting about the character is that she's somebody who is in over her head." Again, agreed. This was one of my favorite drama pilots this fall so watch and report back to me with your thoughts! (The Blacklist premieres tonight at 10 p.m. on NBC)
REVENGE Revenge Season 3 kicks off this Sunday and with a new showrunner (Sunil Nayar), expect a return to the fast-paced, soapy drama we've grown to love. And one relationship that works best with tension is that of Victoria (Madeleine Stowe) and Emily (Emily VanCamp). I asked Nayar about Victoria actually being nice to Emily in the season premiere and whether we – and Emily – should trust her intentions.
"I think it's a double intent that Victoria has," he explained. "But obviously situations tend to lead them down paths they don't expect to go, and so I think she says it with all hopes that they will be the truth, but obviously, circumstances conspire to make sure that will never be the case... Victoria's happiness is really not something that Emily loves."
What has Victoria so happy in the first moments of the new episode is her long-lost son Patrick (Justin Hartley) being in her life. However, I asked Nayar, is Patrick's identity brought into question or do we know for sure he is Victoria's long lost son? "We address that question in episode two, and live in it for just a moment," he teased, "but it's not a big part of the storyline that we're looking to advance with Patrick." (Revenge premieres Sunday at 9 p.m. on ABC.)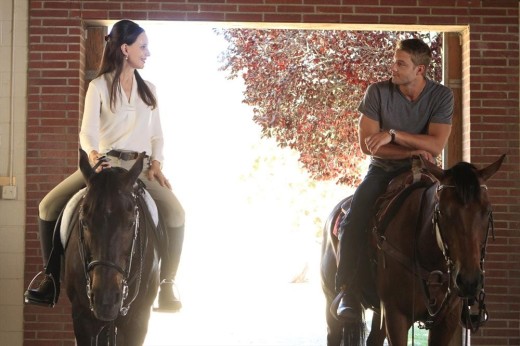 THE GOOD WIFE We know the end of last season had Alicia (Julianna Margulies) joining Cary (Matt Czuchry) in his new firm, but when The Good Wife Season 5 starts, series creators Robert and Michelle King told me that Cary and Alicia are still at Lockhart/Gardner and while Alicia will be fighting her own guilt, what about Cary?

"The bottom line with Cary," Robert explained, "is Cary feels like once he was overlooked for partnership, and once he was promised it and passed on, there was a real sense of fuck-you-ness about what happened." However, like in a real law firm, the Kings said there's a different reaction for partners who defect than associated.

So, can we expect former lover Will (Josh Charles) and Diane (Christine Baranski) to take the news well when it gets out? Michelle hinted feelings won't be positive when it gets out. "The firm has been very good to Alicia Florrick," Michelle stated, "giving her a job when she didn't have prospects, promoting her to partner. Now, she has every reason to feel that she has contributed plenty, Lord knows she's won enough cases, but yes, there's got to be a feeling of betrayal there." Count me in! (The Good Wife returns for Season 5 on Sunday at 9 p.m. on CBS).

Too many new shows to keep track of? Keep an eye on TV Fanatic or email me direct at jim@jimhalterman.com if there's something in particular you want to know. And remember: follow @TVFanatic for all your TV scoop!

Jim Halterman is the West Coast Editor of TV Fanatic and the owner of JimHalterman.com. Follow him on Twitter.

Tags: Jim's Notebook, Spoilers, Revenge