When it's true love, you just know. | permalink
Jane is not your average person. She's defied her own odds, and her "One Shot" has doubled to two.
The character's second shot gives her unique insight, as she tends to live her life with an outlook of morality and positivity. She knows Stacy broke the girl code and, maybe if Jane was still Deb, that might have mattered - but Jane isn't in that spot in her life anymore.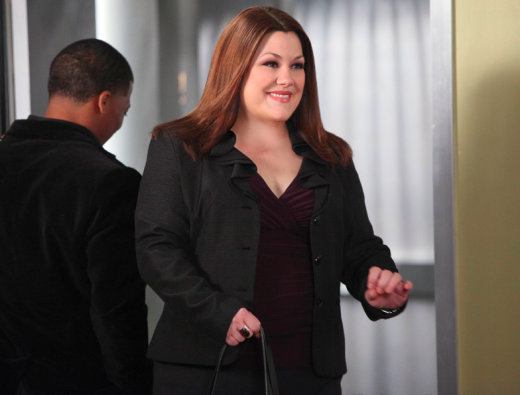 Jane's lost too much and been through too much to let the smaller things in life bother her; the girl code is one of the things that's left behind. Stacy's right. Jane knew it too: she doesn't love Owen, not in the same way she loves Grayson, and it's time for her to finally accept what's in her gut. It's just unfortunate that Jane and Grayson are continually locked in this back and forth of proclamations.

It's time to make the decision: are they destined to be together or not? It's time for Drop Dead Diva to answer that question as well.

Jane's witness protection case echoed this same topic. Becca and Neil were willing to start entirely new lives together while leaving their old ones behind. Their case was akin to the series.

Getting back to Jane and Stacy, they had a fight and made up. I wish Drop Dead Diva Season 5 had gone a little longer with the fight for some more drama and development, but the with the show hitting the return button from cancellation it's probably better for the series' long term health that one of its core relationships comes out of this relatively unscathed; and there was a nice montage out of the deal as well.

Stacy and Owen do not bother me. Any potential coupling actually gives them something to do aside from being Jane's best friend and being Jane's ex-fiancé. There wasn't any kind of jealously, insecurity or nastiness involved from either them. Stacy's looking for a sperm donor and feelings for Owen developed; at that point both Jane and Owen had moved on. It's still too early to tell if Stacy and Owen will actually end up anywhere.

The B-Story with Owen being so protective of Ashley provided great insight into the type of father Owen will be. He was kind to her and lent her his ear when no one else was listening. Ashley just wanted to go to college and get her degree before continuing her career, and Owen offered her a solution (with a little bit of scheming) that no else did... something a father might do.

What did you think, is Jane and Stacy's relationship that easily repaired? Or is the damage still done? Will Grayson and Jane ever get together?

Nick McHatton is a TV Fanatic Staff Writer. Follow him on Twitter.

Tags: Reviews, Drop Dead Diva