The Big Bang Theory Review: The Odd Couples
by Jim Garner at .
After accepting Raj's challenge of a M.I.T. level scavenger hunt, The Big Bang Theory gang paired up by drawing names from a hat with the resulting teams making for a hysterical half-hour in "The Scavenger Vortex."
While we've seen Sheldon and Penny on screen alone before, it was all new ground to witness Leonard and Bernadette get some time together (just the two of them), and for Howard and Amy get to hold a conversation alone.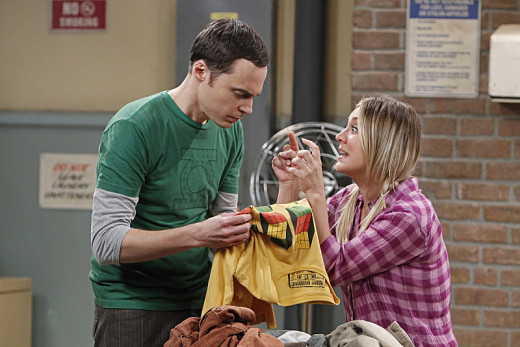 I wasn't sure how it was going to play out for the latter two squads, but once Howard and Amy started singing Neil Diamond, I knew it was going to be fun! And like a 20-minute glimpse into a modern day Mad Mad Mad World, the teams were off!

My favorite duo was Leonard and Bernadette. She had me in stitches with some of her comments, I don't think Melissa Rauch has had me laughing this hard since she tried to be Howard's magician assistant and we learned she wasn't good with kids. At all.

They were followed closely by Amy and Howard, whose love of Neil Diamond actually overtook the game, as they never finished and went to sing Karaoke instead. So, I think we can declare them the winners: they did end up having a ball!

This week was also unique for me on another level, as I was watching it with my in-laws for the first time and I didn't know if they would like the sitcom, much less laugh at any part of it. I'm thrilled to say that they both thought it was great, with my mother-in-law cracking up even more often than I was.

So in honor of the rare company I was able to enjoy the half-hour with, I'm giving this episode 4.5 laughing parents. What did you think of the episode? Did you have a team you were rooting for or was your favorite pairing? 

Jim G. is a TV Fanatic Staff Writer. Follow him on Twitter.

Tags: The Big Bang Theory, Reviews
From Around the Web