Jim's Notebook: The Blacklist Guest Stars, An Early Holiday Treat & More!
by Jim Halterman at . Updated at . Comments
 It's a mixed bag, so to speak, in this week's Notebook, as I chat with the Executive Producers of The Blacklist, delve into a Lifetime holiday movie and also tackle a real-life crime unit on TNT.
Let's do this…
The Blacklist: One of the fun elements of the new NBC hit is its use of guest stars like Robert Knepper, Justin Kirk and Robert Sean Leonard as villains. But how did Andrew Dice Clay come into the mix in the "General Ludd" episode?  
"I think [Clay] met with some of the folks at NBC and they had had some conversation just about stuff in general," said Executive Producer John Eisendrath. "We have this character who is this plastic surgeon, change people's faces, and not just a plastic surgeon like you typically think of one, one to criminals and it just seemed like a nice, strange, delicious piece of casting that was a lot of fun."
And if you're like me, you're wondering if Ryan Eggold's character, Tom Keen, is truly on the good side of things or if he's just got the wool pulled over the eyes of his wife and the FBI. Creator Jon Bokenkamp explained we'll see more with him very soon.
"There will be a lot of questions answered between Tom and Liz [Megan Boone's character] and their relationship in the back nine. A good part of the story engine of the back nine will revolve around their relationship."
And, yes, Tom and Lizzy may be dealing with domestic life at the moment but I suspect there's more than meets the eye with him. What do you think? (More of my interview with the producers coming Monday. The Blacklist Season 1 airs Mondays at 10/9c on NBC.)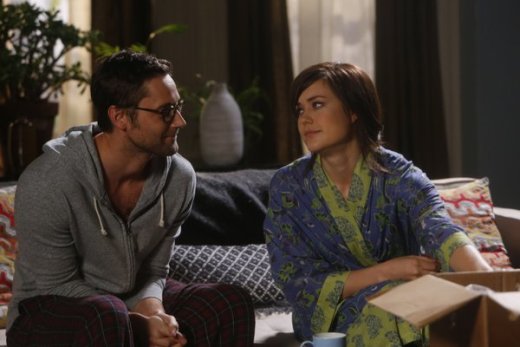 Kristin's Christmas Past: Tis the season for…regrets? That's at least how the Lifetime holiday film (directed by Jim Fall and airing this weekend on Lifetime) begins, with 30-something Kristin (Shiri Appleby, from TV's gone-but-not-forgotten Life Unexpected) waking up and finding herself transported to when she was 17 and celebrated her last holiday at home with her family, including her now-estranged mother (played wonderfully frosty by Revolution's Elizabeth Mitchell).

Of Kristin's journey, don't be surprised if, as a viewer, you don't wonder about going back in time yourself. "I thought it was a really sweet movie," explained Appleby, who is just wrapping up filming of a Lifetime pilot, Unreal." She added that it's interesting "to go back to your younger self and realize that the reason you made those choices was because the person that you were at the time, those choices felt correct."

The actress also said that now that she's a parent she could better appreciate the message of the film. "I had just had my baby when we made the movie," she said. "I was starting to really understand my parents in a way that I never have and just that you let go of all of the stuff you grow up frustrated with or resentful and you're sort of in the position you accept them and love them and appreciate them so much more. I think a lot of what Kristin was going through was definitely similar to when I was young in my own life."

If you need a charming movie to get you in the holiday spirit, this one is a great place to start. (Kristin's Christmas Past airs Saturday at 8 p.m. on Lifetime).

Marshal Law, Texas: Admittedly, I don't watch a lot of non-scripted shows these days (I'm even giving Top Chef a break this season!) but I did check out the new TNT reality series about U.S. Marshals of the Lone Star state and their intense jobs.

So when I talked to real-life members of the U.S. Marshals Office, I had to ask how it works being in hot pursuit of criminals yet having cameras following them and how that works.

"We can let the cameras follow our task force officers around," said Dave Oney from the U.S. Marshals Public Affairs Office. "And as long as they don't interfere with the operation, they're welcome to record what happens, what they say and what they do. The reason we do this is so people will get a better understanding how and why we do what we do."

And since we regularly see U.S. Marshals portrayed in films and television, which productions out there are getting the Marshals right? Oney said that one of his jobs in the Public Affairs office is to make sure accuracy is achieved as much as possible.

"A lot of times they get it right, a lot of times they don't but it's still fun," Oney explained. "Scripted shows that are really well done like Justified, on FX, that one uses an Elmore Leonard-created character and you can't go wrong with an Elmore Leonard story (Marshal Law: Texas premieres Tuesday, November 26at 10 p.m. on TNT).

Jim Halterman is the West Coast Editor of TV Fanatic and the owner of JimHalterman.com. Follow him on Twitter.

Tags: The Blacklist, Spoilers, Jim's Notebook