Remind me to never to eat while Phil is practicing singing. I literally almost choked on my sandwich.
Modern Family Season 5 Episode 7 marked the 20th wedding anniversary of Claire and Phil! Honestly, he tries so hard with his gifts that you just have to give the guy extra credit.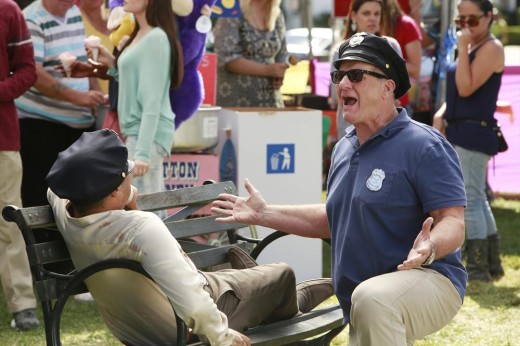 I always say that I love an episode that brings the whole family together. Well, this week we got almost everyone and the laughs were flowing. Haley, as the one missing family member, got to crack us up interacting with Adam DeVine.
Haley: I'm Alex, who are you?
Andy: I'm their manny.
Haley: Nice try, I know their Manny and you look nothing like him.
Andy: Ohhh, you're Haley.

Haley's so dumb and sassy and his personality is so neurotic and kiss ass, it just made the perfect combination. So were they flirt fighting? Is Haley gonna hook up with the manny?

Back at the fair, Jay had a new partner in his parking lot nemesis. You gotta love watching two stubborn mules square off over a parking space. Then they got paired up playing county fair cops and instantly bonded. Also, sir, that shirt was indeed a blouse. And in the sentiment of Regina George from Mean Girls "that blouse was disgusting."

Question: Was it just me or did the kid they were arresting in the jean jacket look EXACTLY like Mike Damone from Fast Times at Ridgemont High? Sorry, I'm having 80s flashbacks over here.

Loved seeing Alex and Luke in competition over Sienna. I also love that Manny doesn't change who he is to fit in. You go Manny, that cake was a work of art! However, now that we know how good he is at blocking, he can help Uncle Cam out on the football team with the popular kids. See? Everybody wins.

Can we invite the pharmacist back for another musical number? He was a rock star. Poor Phil's gift got ruined, though. However, this was Claire's year considering she usually bombs at the creative gift thing. I love that how well Claire and Phil know each other. She knew he would get that the Chinese acrobats were for the "china" anniversary.

Those two were made for each other. Happy Anniversary Dunphys!! And Thank God your children learned to never enter your room without knocking again.

For a lot more, visit our Modern Family quotes section.

Leigh Raines is a TV Fanatic Staff Writer. Follow her on Twitter.

Tags: Modern Family, Reviews