Did anyone realize that when Peter Pan said he needed to find the heart of the truest believer he literally meant he needed the boy's heart?
Once Upon a Time Season 3 Episode 8
proved that it was going to take more than lovely thoughts to reunite Henry's heart with his body.  And that was the least of the revelations.
Let's rewind to the Neverland of the past...
Rumpelstiltskin was once a young boy who longed for a family. What he got was a selfish conman for a father.
I couldn't figure out where it was all going to lead when Rumpel and his dad landed in Neverland but I knew it had to lead back to Peter Pan.
As the evil shadow of Neverland taunted his father up above, poor Rumpel held on to his doll and begged for his father to return. Unfortunately, when he did it was a far worse nightmare than anything that boy could have imagined.
How heartless does a man have to be to let his son get ripped away so that he can live the life of a spoiled child? No wonder Rumpelstiltskin turned to the power of the Dark One. He had almost no power at all for the early parts of his life. The one person he should have been able to trust abandoned him. Then his wife left him because she was bored with their life.
But the revelation that Peter Pan was actually Rumpel's father totally floored me. It ranked up there with watching The Empire Strikes Back when I was 9. I never saw it coming.
And as if that wasn't enough, Pan swapped Pandora's box and sent his grown son inside.
I suppose it shouldn't have been much of a shock that he'd take his own great-grandson's heart and leave him to die.
If I had any complaints about the episode it was that I wanted to see more of Regina and Emma working together.  I really enjoy it when these two team up and their scenes just weren't long enough to satisfy me.
Hook gave us our one small moment of humor when he responded to Emma in this Once Upon a Time quote…


Emma: We need to talk.
Hook: I've found that when a woman says that I'm rarely in for a pleasant conversation.
I hated that Hook got left behind as did Snow and Charming, but I'm assuming they'll have their roles to play in this saga sometime soon.
As for Henry, his desire to play the noble hero was so idealistic it was a little hard to take…


I know all magic comes with a price. Saving magic must come with a price too.

Henry
Pan played on all of his doubts about his parents and all of the lies they'd told him in the past. It was a sad moment when he chose to believe Pan over them.
One thing I'm hoping for is that Regina gets her hands on Peter Pan. She'll have no qualms about ripping that heart straight out of his chest and I'll enjoying seeing it if it happens.
So is Rumpelstiltskin truly banished for all eternity? Will David ever be able to leave Neverland and can anyone save Henry?
Kudos to Once Upon a Time. Not many shows truly surprise me but Rumpelstiltskin's connection to Peter Pan was an awesome twist. I can't wait to see what they have in store for us next.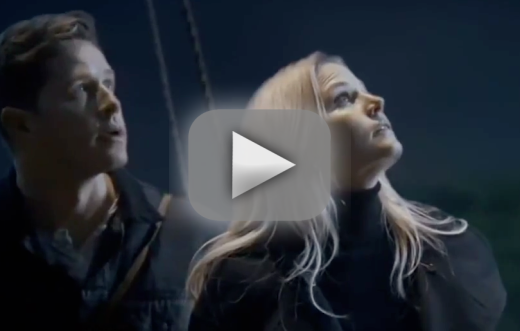 C. Orlando is a TV Fanatic Staff Writer. Follow her on Twitter.

Tags: Once Upon a Time, Reviews
Want more Once Upon a Time?
Sign up for our daily newsletter and receive the latest tv news delivered to your inbox for free!
More From TV Fanatic
Join us for the rewatch of One Tree Hill Season 1 Episode 3. Ready to rundown this fun installment?
The cast and crew of Once Upon a Time gathered at Comic-Con and talked up Once Upon a Time Season 4. Some also sang for us.
This week on The Last Ship, Danny gets sick and the crew begins to panic. Is it the virus? Meanwhile, Rachel's vaccine trials continue to fail.
Who was able to successfully problem solve on The Rachael Ray Show this week? Find out now in our review of Food Network Star.
---